Greater Vancouver Bird Week is back October 3-10, 2020, featuring bird walks, online webinars, workshops, and other activities led collaboratively by bird enthusiasts from organizations across the region.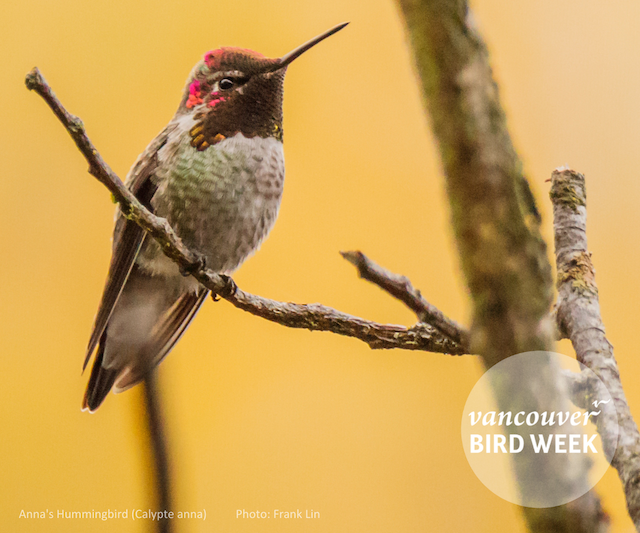 Vancouver Bird Week 2020
From Matsqui Trail Regional Park to VanDusen Garden, Stanley Park to John Hendry Park (Trout Lake). Explore your new pandemic hobby or deepen a longtime appreciation. No matter your experience level – from expert bird nerd to casually curious – there is sure to be something for a birder to enjoy.
This year's program includes an online panel discussion, Birding Bright: Exploring Responsible Birding, that will look at what it means to be a responsible bird lover by exploring topics like bird photography, bird-friendly design, and citizen science. For those looking for something outdoors, the Come Birding with Us! series invites members of diverse audiences to join a guided bird walk.
Rob Butler, Chair of the Vancouver Bird Advisory Committee, says, "Spending time in nature is good for everyone and birding is a great way to reconnect with the natural world. Vancouver is fortunate to be on the doorstep of Canada's premier birding hotspot. Bird Week is our way of helping everyone become more aware of birds around Greater Vancouver. Take a look at the events and join in the fun."
Enter the Kids' Biodiversity Collage contest which will run all week. Your collage can be made up of drawings and paintings you've made, or photos that you've taken yourself. The prize will be a guided bird tour with Birds Canada combined with a visit to a professional artist studio..
Vancouver Bird Week is a week-long series of events to celebrate Vancouver's birds. It was inspired by World Migratory Bird Day, a United Nations-sponsored initiative that recognizes the importance of birds as key indicators of our environment's health. The goals and themes of Bird Week align with the Vancouver Bird Strategy to create conditions that enable native birds to thrive in our city while providing Vancouverites access to birds in every neighbourhood and park, and attracting visitors from around the world.