White Spot and Triple O's are becoming the first restaurant chains in Canada to launch the Impossible™ Burger on all menus starting this weekend.
The Impossible Burger at White Spot and Triple O's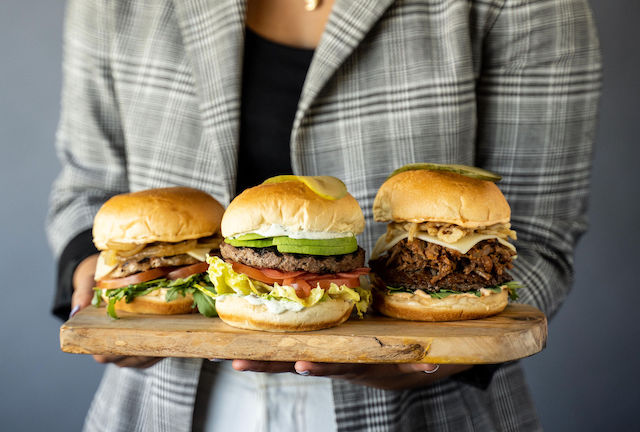 Available at all 62 full-service White Spot locations and 39 quick-service Triple O's across BC and Alberta beginning September 19, 2020, the made-from-plants patty will be showcased as part of a new fall menu launch that provides more delicious choices and includes the following Impossible™ Burger creations:
Available at White Spot: The Avocado Impossible™ Burger (fresh avocado, pickled onions, crisp lettuce, vine-ripened tomatoes, jalapeño ranch), served with a choice of Caesar salad, The Spot's Salad, or creamy coleslaw and 'endless' Kennebec fries.
Available at Triple O's: The Original Impossible™ Burger (crisp lettuce, vine-ripened tomatoes, secret Triple 'O' Sauce & signature pickle on top). Guests can combo up their burger with a selection of sides & beverages.
Guests can also substitute the Impossible™ patty into any burger on the menu at White Spot and Triple O's locations.
"For more than ninety years we have kept our menus fresh by innovating, adapting and providing our guests with the best tasting dining experience", says White Spot President Warren Erhart. "Being able to offer more plant-based protein like the Impossible™ Burger patty further underscores the importance we place in offering a variety of options for meat lovers, meat reducers and flexitarians alike at White Spot and Triple O's."
Burgers for Charity
This Saturday, September 19 and Sunday, September 20, White Spot and Triple O's will give guests a chance to be the first to try the Impossible™ made-from-plants patty in their new burger creations, and will donate $2 from every Impossible™ Burger sold over the two days to Variety – the Children's Charity of BC, a charitable partner since 1966.
To celebrate the launch, White Spot and Triple O's will also be giving away a total of 1,000 FREE Impossible™ Burgers — hungry burger lovers are invited to enter the giveaway.
BONUS: I have a $50 gift card giveaway on Instagram HERE.
Miss604's Rebecca Bollwitt is Secretary of the Board of Directors, Chair of the Marketing Committee at Variety.
Related: Variety Week 2020 on Global BC