This Friday, as BC Culture Days kick off, join the Stand Up for Mental Health ("SMH") crew for a hilarious online show. Comics are all alumni of the SMH Comedy Program, an award-winning program teaching stand up comedy to people with mental health issues as a way of building confidence and fighting public stigma.
Stand Up for Mental Health
When: Friday, September 25, 2020 at 7:00pm
Where: Online
Tickets: FREE! Register here.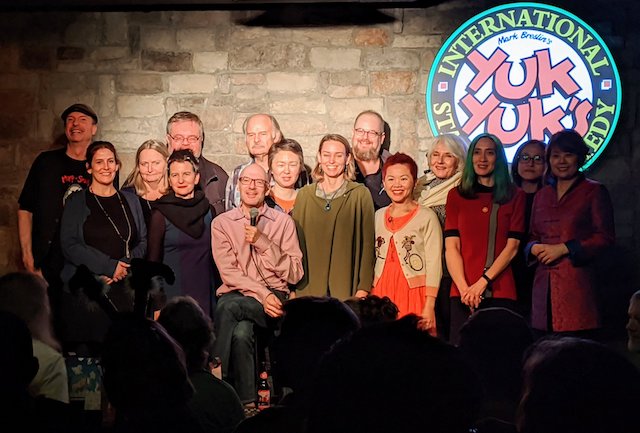 COVID has been a major challenge to people's mental health because it has caused more feelings of isolation than ever.
SMH makes a huge difference in the lives of their comics and also to the community by showing them a totally different perspective on mental health. The shows are hilarious, and they're a great way to educate the public about what it means to have a mental health condition — what better way to learn about such a serious subject then through comedy?
"Together we've trained close to 200 comics, done approximately 300 shows some of which we put on ourselves but other organizations also hire us to do shows to raise awareness about mental health," Founder David Granirer wrote on Facebook for the SMH 15th anniversary last winter.
"We've preformed for the military, corrections facilities, government, corporations, universities, colleges and we've been part of med school curriculums. So I want to thank the comics, our board, our donors, our sponsors, and all the audiences who have come out and supported us all these years. Here's to another 15!"
SMH began giving classes in the Vancouver area in 2004 and incorporated as a non-profit society in July 2010. They have a 6 month long level one program plus an alumni program for comics who have finished their level one and want to continue performing. They do approximately 20 shows a year in the Vancouver area for all sorts of different organizations. Register for a class, become a member or learn more about shows here.