The world premiere of Sundance award-winning Vancouver filmmaker Jennifer Abbott's new feature doc The Magnitude of All Things tops a powerful lineup of National Film Board of Canada ("NFB") produced and co-produced documentary and animation at the Vancouver International Film Festival ("VIFF"), taking place September 24 to October 7, 2020.
NFB Films Showing at VIFF
The Magnitude of All Things draws intimate parallels between the experiences of grief—both personal and planetary. Stories from the frontlines of climate change in Northern Canada, Australia, Ecuador, Sweden and England merge with recollections from the filmmaker's childhood on Ontario's Georgian Bay. What do these stories have in common? The answer, surprisingly, is everything.
Two NFB feature docs by acclaimed creators are also making their BC debuts:
John Ware Reclaimed by Cheryl Foggo, a Calgary-born filmmaker, author and playwright whose work often focuses on the Black Canadian experience.

John Ware Reclaimed follows Foggo on her quest to re-examine the mythology surrounding John Ware, the Black cowboy who settled in Alberta before the turn of the 20th century. Her research uncovers who this iconic figure might have been, and what his legacy means in terms of anti-Black racism, both past and present.

Inconvenient Indian by Michelle Latimer, a filmmaker, producer, writer and activist of Algonquin, Métis and French heritage.

In this time of radical change and essential re-examination, Inconvenient Indian brings to life Thomas King's bestselling book, dismantling North America's colonial narrative and reframing history.
Inconvenient Indian from NFB/marketing on Vimeo.
The festival is presenting two NFB animated shorts:
The Great Malaise by Quebec animator and illustrator Catherine Lepage.

A young woman describes herself and her life in glowing terms, but the visual narrative tells a different story: with heart-rending power it illustrates the heavy burden of anxiety carried by this worried overachiever. In VIFF's Short Forum Programme 3.

The Fake Calendar by Meky Ottawa, from the Atikamekw Nation in Quebec, produced through the Hothouse program.

A neon glimpse at how people come up with interesting and creative ways to avoid social functions, in favour of their own private space. In VIFF's Short Forum Programme 4.
For its 12th edition, the NFB's Hothouse program for emerging animators teamed up with imagineNATIVE and associate producers Amanda Strong and Amanda Roy to help address underrepresentation of Indigenous creators in film animation.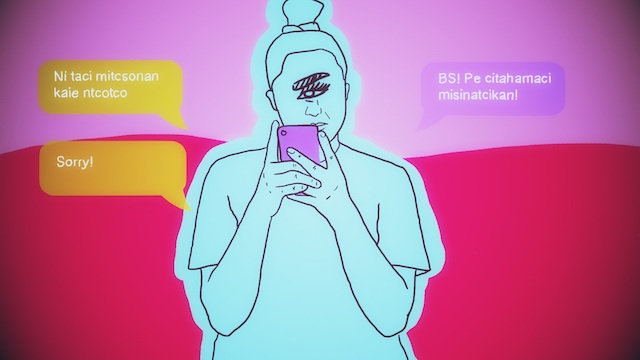 The full VIFF program and film schedule is now available online.
Related: NFB Has Over 4,000 Free Films Online, NFB Has Free Online Learning Resources for Parents and Teachers