Riverside Cranberry Farm is offering Cranberry Bog Tours in Langley this season and I fully anticipate that they'll sell out. One of my most memorable writing assignments was when I got to hop into some waders and wander around a flooded cranberry bog in Fort Langley a few years ago. It felt like being in an episode of "How It's Made" … or the "Polka Dot Door". The cranberry is one of only three commercially-grown fruits that are native to North America. This is a hyper-local experience!
Cranberry Bog Tours in Langley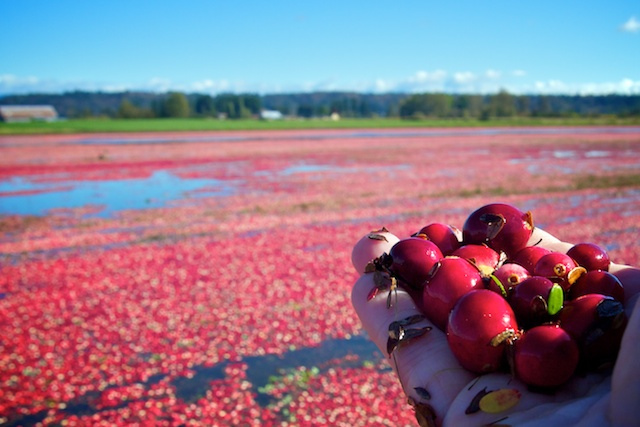 When: October 7 to 10, 2020 daily
Where: Riverside Cranberry Farm (26805 88th Ave, Langley)
Register: Guests MUST book online in advance (scroll to bottom of page). Tickets $9.50-$16.93. Three time slots available between 10:00am and 4:30pm
Riverside's bog is located in the heart of Glen Valley, bordering the Fraser River and surrounded by mountains. Registered guests can take Harvest Walk, which follows the perimeter of the field being actively harvested. You'll be able to see the beater machine working or to see the cranberries being pumped off the field.
Stroll around and read the informational displays to learn about the interesting facts about cranberry farming. Watch the antique cranberry cleaning equipment in action in Riverside's new barn and learn about the history behind this authentic machine.
You can also don some waders for a photo op! Self-guided tours run rain or shine. Follow The Riverside Bog on Facebook for more info.