You can experience three exciting shows live at the Newmont Stage at the BMO Theatre Centre and Granville Island Stage with the Arts Club's fall theatre trio.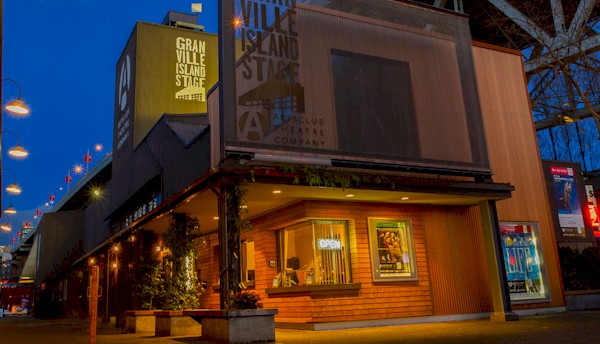 The Arts Club's Fall Theatre Trio
Tickets: Available online now
The Arts Club Theatre Company Artistic Director Ashlie Corcoran has revealed the company's three-show fall theatre lineup, one she calls "a trio of bold, exciting one-person shows guaranteed to reinvigorate our audiences' love and appreciation for live theatre."
The performance and rehearsal models are uniquely designed to be as safe as possible for artists, staff, and audience members. Each show will have two rotating casts and crews, who will do seven performances each week and rehearse in separate halls.
"Though we were heartbroken over cancelling our original 2020–2021 season, we're excited to begin producing theatre safely once again," added Corcoran. "The Arts Club won't be doing any big blockbusters this year, but we are still very much committed to bringing high-quality, inspiring theatre to our stages. These three small yet fierce shows are a testament to the resilience of the performing arts community during this time."
Over 30 freelance artists have been hired to create these shows, some of whom were previously contracted to work on shows for the Arts Club's original 2020–2021 season.
"These smaller, more intimate shows allow us to be nimbler than we would be with larger productions," explained Executive Director Peter Cathie White. "This 'bubble method' of alternating casts and crews is a brand-new way of producing theatre for the Arts Club, and we hope it will become a model for performances going forward as we continue to navigate our new normal."
Show Lineup
NO CHILD…
By Nilaja Sun
September 24 to October 25, 2020
Newmont Stage at the BMO Theatre Centre
This bold examination of arts education in public schools had its initial off-Broadway run at the Barrow Street Theatre in 2006 and has since garnered the playwright 21 awards—including an Obie Award and two Outer Critics Circle Awards.
BUFFOON
By Anosh Irani
October 22 to November 22, 2020
Granville Island Stage
This play—which follows the story of Felix the clown as he grows up, falls in love, and has his heart broken at the circus—had its world premiere at Toronto's Tarragon Theatre in November 2019 and won the Dora Award for Outstanding New Play this year. It was originally part of the Arts Club's 2018 ReACT: New Plays in Progress festival, which gave audiences a glimpse at plays in the early stages of development.
THE TWELVE DATES OF CHRISTMAS
By Ginna Hoben
November 19 to December 20, 2020
Newmont Stage at the BMO Theatre Centre
A bubbly holiday comedy about finding love in unexpected places. Hoben's seasonal hit was inspired by both her own experience re-entering the dating world and her resolve to create more lead roles for women in holiday plays, which are dominated by traditionally male figures like Ebenezer Scrooge. It has been produced over 60 times across the globe and was previously programmed for the Arts Club's 2020–2021 season.
All three shows will be staged in adherence to safety guidelines established by the BC government, including an audience cap of 50 patrons, staggered admission times, and a mandatory mask policy (with the exception of patrons with respiratory or other health concerns). The Arts Club is also taking additional precautions to reduce the spread of COVID-19 and protect the health and welfare of patrons, artists, staff, and volunteers.
In addition to the in-theatre experience, patrons will be given the option to purchase tickets to a digital recording of each of the three productions, which will be available to view for a limited time.