Fresh air, flowers so tall they form a shady canopy, and plenty of photo ops. Sunflower events have become a late summer tradition and thanks to open spaces, physical distancing and timing of entry, they have been made COVID-safe! Check out these sunflower festivals in the Lower Mainland: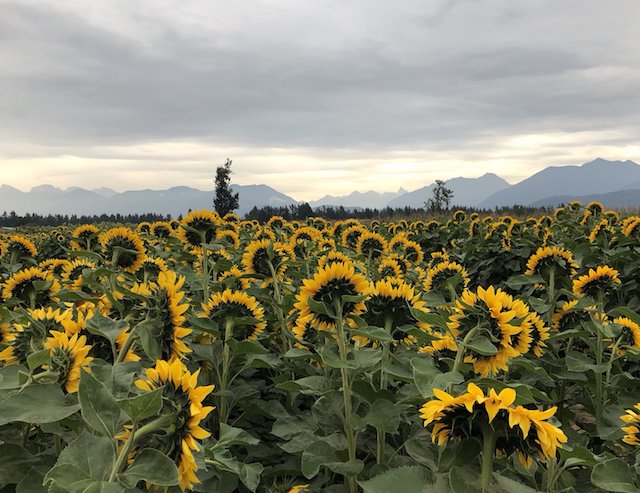 Sunflower Festivals Near Vancouver
Chilliwack Sunflower Experience
When: Thurs-Mon 7:00am to 6:00pm, Tues-Wed open at 9:00am.
Where: 41310 Yale Road, Chilliwack (entrance off Royalwood Dr)
Tickets: Available online
About: The fields are alive with 25 different varieties of sunflowers, and more than 50 varieties of dahlias. This year the team has also planted an array of colourful gladiolas. Roam more than three kilometres of pathways throughout the fields. 
Richmond Sunflower Festival
Where: Richmond Country Farms (12900 Steveston Hwy, Richmond)
When: Mon-Fri, 10:00am to 6:00pm; Sat/Sun until 7:00pm
Tickets: Available online
About: To ensure a safe experience on the farm they have doubled the planting of over 20 varieties of Sunflowers and Dahlias on 15 acres, with additional wider paths. The farm is now twice the size. You can also enjoy the estate winery tasting room on site and farm-fresh goods like seasonal fruits and vegetables.
Abbotsford Sunflower Festival
Where: Maan Farms (790 McKenzie Rd, Abbotsford)
When: Sunrise and Golden Hour options, check schedule for hours
Tickets: Available online with a variety of package options
About: Take pics at designated photo ops, snip your own flowers at the U-Pick field, and bask in the glow of the sea of sunflowers. Snack on a picnic from the Country Kitchen or sip estate wine from the tasting room.
All of these events require pre-purchased tickets in order to maintain safe capacity limits and social distancing. All are open now and have closing dates around Labour Day but stay tuned for updates to see if they will be open later in the season.
Remember to stay home if you feel sick, wash your hands, don't gather in large groups, hang with people you know (your small bubble), and keep your distance. Goodtimes!