Richmond's annual celebration of all things nautical will be embracing the change in the wind for 2020. The Richmond Maritime Festival will bring performances, hands-on fun, storytelling and much more to online platforms from Britannia Shipyards Museum August 28th to September 7th.
Richmond Maritime Festival
When: Friday August 28 to Monday, September 7, 2020
Where: Viewers can tune in daily to the @FunRichmond Facebook page or the festival website for a compilation of music, hands-on activities, story-telling and history from great local artists and performers.
"As with every year, we look forward to celebrating Richmond's strong maritime heritage," said Mayor Malcolm Brodie. "And though normally we would gather at Britannia Shipyards National Historic Site, we look forward to gathering in a different way and enjoying incredible performances and the spirit of the Richmond Maritime Festival from our own homes."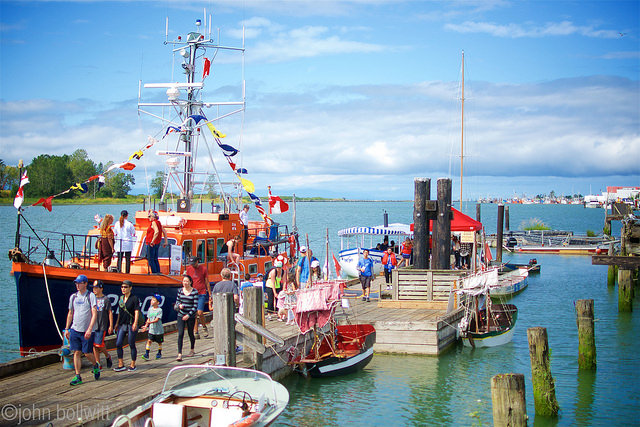 For the first time in its 17 year history, the Festival will take place entirely online! The kick-off celebration on Friday, August 28th will feature a welcome from Mayor Malcolm Brodie and performances by a capella trio Cannery Mermaids, Mad Jazz and The Seabillys. Peppered in among the music will be stories by Kevin Lee and the Britannia Shipyards National Historic Site Society, a dance performance by Coastal Wolf Pack, and a hands-on activity by Richmond Maritime Festival artistic visionary Marina Szijarto. There will also be appearances by festival favourites Rikki the Rat and Lulu the Mermaid.
Enter to Win A Sailing Experience
Miss604 is proud to sign on once again as the Social Media Sponsor of the event and to present an awesome giveaway!
You can win a sailing on the Providence, flagship of the Britannia Shipyards National Historic Site, one of the stars of the Richmond Maritime Festival Re-Imagined and the oldest working vessel in BC waters.
The winner's experience will include a 3 hour sailing leaving from Britannia Shipyards National Historic Site in Steveston or the Vancouver Maritime Museum at Vanier Park. The experience is available to one family of up to 10 people. Sail subject to evolving provincial health authority COVID-19 orders and guidelines. Deadline for use is June 15, 2021.
Here are up to four ways you can enter to win:
Click to enter via Twitter
Click To Tweet
I will draw one winner at random from all entries on the last day of the festival at 12:00pm on Monday, September 7, 2020.