The Firehall Arts Centre is hosting Music in the Courtyard on weekends throughout the months of August and September.
Music in the Courtyard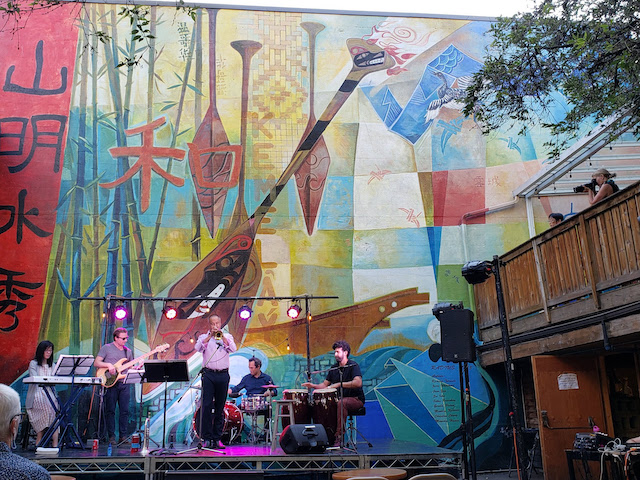 When: Fridays and Saturdays at 7:00pm, and Sundays at 3:00pm (with the exception of the performance on Sunday, September 13, which will take place at 7:00pm).
Tickets: $20 available online. A limited number is available in order to comply with COVID safety protocols.
Lineup
Thursday, August 27 at 7:00pm Elle Wolf
Friday, August 28 at 7:00pm The Patsy Klein/Tony Wilson Band
Saturday, August 29 at 7:00pm Waxwing
Sunday, August 30 at 3:00pm The Anti-Fogmatics
Friday, September 4 & Saturday, September 5 at 7:00pm | Sunday, September 6 at 3:00pm Small Town Artillery
Friday, September 11 at 7:00pm Gord Grdina Trio
Saturday, September 12 at 7:00pm Itamar Erez Trio
Sunday, September 13 at 7:00pm Sitka String Quartet
Friday, September 18 at 7:00pm Paul Pigat
Saturday, September 19 at 7:00pm Ruby & Smith
Sunday, September 20 at 3:00pm Laura Crema Quartet
Friday, September 25 at 7:00pm Triology
Saturday, September 26 at 7:00pm Microcosmos
Sunday, September 27 at 3:00pm Van Django
"When planning this music series with Diane Kadota and John Korsrud, I wanted to offer a place where audiences could sit back, relax, and enjoy music from some of BC's finest musicians, and to provide a little joy to people's COVID lives," says Artistic Producer, Donna Spencer.
The events are designed for limited audiences, who are all encouraged to wear face masks and to follow the COVID-19 Health and Safety Protocols the Firehall staff had put in place. For more info, follow the Firehall Arts Centre on Facebook.