The Vancouver Pride Parade is going virtual for 2020 due to COVID-19, bringing its incredible spirit and community directly to you through a series of a live stream #VanVirtualPride events on Sunday.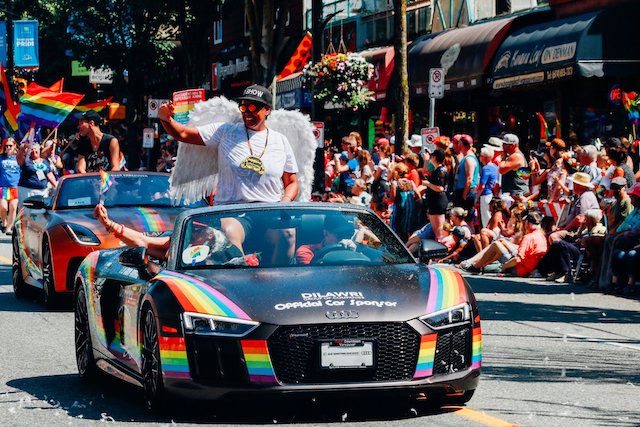 Vancouver Pride Parade
When: Sunday, August 2, 2020 from 12:00pm to 4:00pm
Where: Live streamed on Facebook, Youtube, and Twitch
#VanVirtualPride parade day will consists of the following events:
40+ Years of Pride – 12:00pm
Travel through 40 years of Pride history in Vancouver in a documentary produced just for Van Pride 2020 with footage from years of Vancouver Pride Parades and exclusive interviews with community members. Hosted by Joan-E and Kendall Gender.
Virtual Pride Parade – 1:00pm
Pride can't be cancelled – only re-imagined! Tune into the Vancouver Virtual Pride Parade, produced by Daily Hive Vancouver and hosted by Joan-E, for an hour of creative submissions and music.
Sunset Beach Main Stage Show – 2:00pm
Dance in your living room or at your socially distanced patio party to the Sunset Beach Main Stage Show, featuring an all QTBIPOC line-up of performers. Headlined by Amythyst Kiah and Jamila Woods. Performers include: Amythyst Kiah, Jamila Woods, NIMKISH, DJ Abasi, SNAP, Shanique, Ebbie Akbar, Shawnee, Virago Nation, Jaylene Tyme, Kendall Gender, Shay Dior, and Owen.
Pride is More Than a Parade or Festival
From the organizers: "Pride is more than a parade or a festival – every year members of our communities reach out to tell us this. Pride is the first time they felt truly able to be their full selves. Pride is the day they felt unafraid in public. Pride is where they feel able to fully exist in a world that isn't designed for them. Pride is holding hands and sharing a kiss free of fear, it is first dates and family members coming around, it is political, it is dancing till down, it is unabashedly taking up space."
Follow the Vancouver Pride Society on Facebook for more info.