It's time to test your tuneful knowledge through six rounds of topics that include everything from Rock n' Roll to Movie Soundtracks. The Trivia Music Fest is a fun night in on Friday, July 24th supporting supporting BC & Alberta Guide Dogs.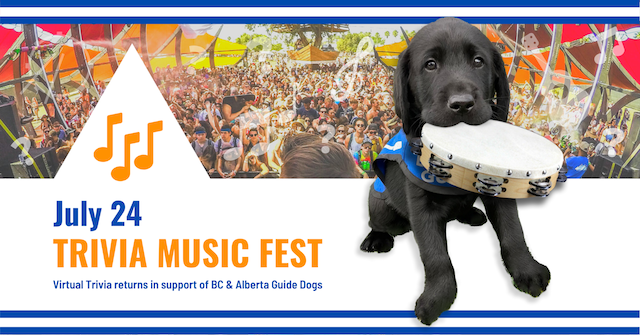 Trivia Music Fest for a Cause
When: July 24, 2020
Where: Online! Register here for $20 to participate
This is the second in the three-part online trivia summer series which is raising funds for Guide Dogs, Autism Service Dogs and PTSD Service Dogs for those in need.
About BC & Alberta Guide Dogs
BC & Alberta Guide Dogs is a registered charity that breeds, raises and professionally trains Guide Dogs for individuals who are blind or visually-impaired, Autism Service Dogs for children ages 3-10 with autism and their families, and PTSD Service Dogs for Veterans and First Responders living with an Operational Stress Injury. It takes two years and upwards of $35,000 to produce one certified dog, provided free of charge to the recipient.
Now that restrictions are being slowly lifted, BC & Alberta Guide Dogs is cautiously returning to physically-distanced, in-person puppy training with group and individual sessions. For more information and updates, follow along on Twitter and Facebook.
Miss604 is a proud media sponsor of this virtual event series (June, July and August 2020).