The Museum of Anthropology ("MOA") at UBC presents Kent Monkman's timely solo exhibition Shame and Prejudice: A Story of Resilience, on display from August 6, 2020 to January 3, 2021. This exhibition takes you on a journey through the past 150 years of Canada. It is a journey that reclaims and reinserts Indigenous voices into the collective memory of our country, challenging and shattering colonial ideas of our history.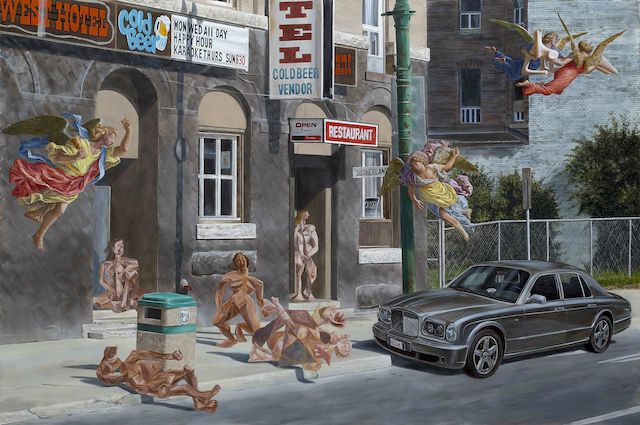 MOA Presents Kent Monkman's Exhibition on Canada's Colonial Legacy
Where: MOA (6393 NW Marine Drive, Vancouver)
When: August 6, 2020 to January 3, 2021
Admission: Pre-booked timed-entry tickets to MOA (which includes admission to this exhibition) will be required.
A searing critique of Canada's colonial policies over the past 150 years, the large-scale exhibition prioritizes First Nations' perspectives during a pivotal moment in the ongoing global discourse on systemic racism. Curated by Monkman — a contemporary Canadian artist of Cree ancestry — the provocative exhibition features roughly 80 pieces, including the artist's own paintings, drawings, installations, and sculptures, in dialogue with historical artifacts and artworks borrowed from museums and private collections from across Canada. MOA is the final stop on the acclaimed exhibition's three-year, cross-country tour.
"The last 150 years have been the most devastating for Indigenous peoples in this country," says Monkman. "And yet I could not think of any historical paintings that conveyed or authorized the Indigenous experience in the art history milieu. Where are the paintings from the 19th century that recounted, with passion and empathy, the dispossession, starvation, incarceration, and genocide of Indigenous peoples? Shame and Prejudice activates a vital dialogue about the impact of European settler cultures on Indigenous peoples and about Indigenous resilience."
The artist's gender fluid, time-travelling alter-ego, Miss Chief Eagle Testickle, is the narrator of this story, told through the lens of Indigenous resilience. Miss Chief leads us from New France and Confederation to the urban environment of Winnipeg's North End and contemporary life on the reserve.
Guided by Miss Chief's excerpted memoirs, visitors will embark on a time-travelling journey through Canada's history — from the fur trade and confederation to the rise of residential schools and impoverished realities of contemporary urban life. Nine distinct chapters explore themes of colonization, incarceration, loss, violence, and resilience through Monkman's visceral representations of historical traumas and injustices, which continue to impact Indigenous communities today.
While Monkman employs satirical humour to undermine the white-washing of Canada's past, his commentary takes a poignant tone when exploring the loss and violence experienced by Indigenous women and children. One of the main themes running throughout the exhibition is the historical Indigenous experience of moving from a state of plenty to a state of deprivation.
Lauded for his fearless commentary on critical issues relating to life for Indigenous people in Canada, Toronto-based Monkman is one of Canada's best-known contemporary artists.
Win Passes
I have a pair of passes to give away to this exhibition at the MOA, here's how you can enter to win:
Leave a comment on this post (1 entry)
Click below to post an entry on Twitter
[clickToTweet tweet="RT to enter to win tickets to @Moa_ubc for Kent Monkman's exhibition Shame and Prejudice: A Story of Resilience #visitMOA http://ow.ly/8ZoS50AFpPq" quote=" Click to enter via Twitter" theme="style6″]

I will draw one winner at random from all entries at 12:00pm on Wednesday, July 29, 2020. The winner will be able to attend on the date of their choosing between August 6, 2020 and January 3, 2021.

UPDATE The winner is Wade!