Happening online on June 18th, Mental Wealth II is a seminar for BIPOC (Black, Indigenous, People of Colour) in the creative, entertainment and hospitality industries, to de-stigmatize mental health issues while highlighting different approaches to true wellness.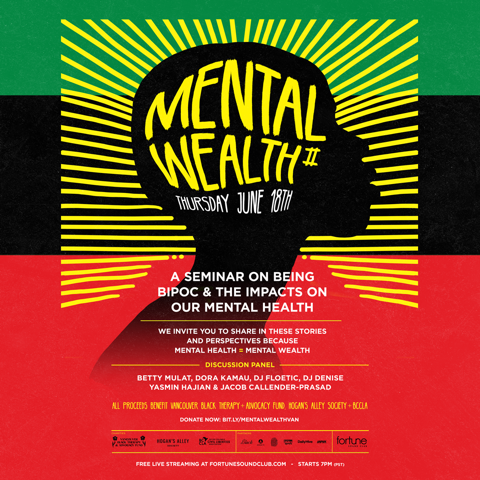 Mental Wealth II: A Seminar on Mental Health in the BIPOC Community
When: Thursday, June 18, 2020 from 7:00pm to 9:00pm
Where: Live on YouTube from Fortune Sound. RSVP to the Facebook event here for updates. Due to restrictions from COVID-19, they will not be opening up physical attendance to this event to the public, and encourage online participation.
Blueprint Events and Fortune Sound Club have teamed up for their second instalment of the Mental Wealth series. In light of the current worldwide movement shining a light on systemic and historic racism specifically towards black communities, they invite you to share in these stories and perspectives from BIPOC because mental health = mental wealth.
Panelists:
Betty Mulat (NuZi Collective/VBT&AF)
Dora Kamau (Bliss Your Heart)
DJ Floetic (Diced Lemons)
DJ Denise (CITR's QueerFM)
Jacob Callender-Prasad (Black Vancouver)
Yasmin Hajian (Therapist/Healing in Colour)
and more
Hosted by Garret Louie (Founder, Fortune Sound Club) & Nate Sabine (Director of Business Development, Blueprint).
In addition, Fortune & Blueprint are pledging a donation of $5,000 towards a GoFundMe set up for the purposes of evenly distributing funds to Hogan's Alley Society, the BC Civil Liberties Association & the Vancouver Black Therapy & Advocacy Fund (VBT&AF). They are encouraging the community to support the fundraising efforts by donating online here, with a goal to raise a minimum of $20,000 throughout this event and beyond.