The Indian Summer Festival is in the middle of presenting 10 weeks of programming to celebrate its 10th anniversary. It began May 16th and until July 18th, you can tune into livestream events on Saturdays and a few other special presentations during the week.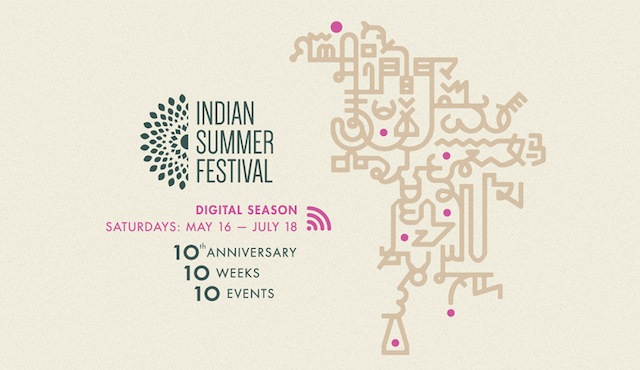 Indian Summer Festival Online
Cost to Participate: Free!
Where: On the ISF Facebook page or YouTube channel.
When: Saturdays at 7:10pm until July 18, 2020, with special events in between.
From Grammy Award-winning musicians to emerging poets, razor sharp economists to visionary environmental warriors, this year's programming spans literary dialogues, intellectual debates, musical performances, and interactive culinary experiences. Indian Summer Festival has built its reputation on its loving and audacious curatorial punch, and this 10th anniversary edition sees a stunning global cast of talent applying its creative power to address this unsettling time.
Schedule
Here are the remaining events you can enjoy:
Tuesday, June 9, 2020 at 7:01pm
ISF2020: Joseph Stiglitz on 'People, Power, and Profits' with Arjun Jayadev
In this special event for Indian Summer Festival, Joseph E. Stiglitz speaks with the brilliant Indian economist Arjun Jayadev who has worked extensively on income distribution and inequality, and was the Co-Editor of 'The Journal of Globalization and Development'.
Saturday, June 13, 2020 at 7:01pm
ISF2020: Night of the Raga
To feel raga in all its variety, ISF2020 goes to some of the most outstanding classical musicians in India. In the middle of a nation-wide lockdown, they dig deep into their repertoires and offer us songs of solace, inspiration and empathy. This is a rare chance to visit these outstanding musicians in the intimacy of their homes and, thanks to technology, sit with them virtually in the same room, rather than the giant concert halls that these musical legends usually fill. Featuring Dr. L. Subramaniam, Kavita Krishnamurti, Ustad Amjad Ali Khan and his sons Amaan and Ayaan, Shubha Mudgal and her partner in music and life Aneesh Pradhan.
Sunday, June 14, 2020 at 12:30pm
Mandala Workshop with Sheniz Janmohamed #ISFMandalaProject
#ISFMandalaProject is a digital community arts-meets-volunteerism campaign, inspired by Sheniz Janmohamed's "mandala a day" project. Volunteers are invited to a workshop to learn from Sheniz Janmohamed about principles of mandala making, intuitive design, and good ways to take pictures of them.
Saturday, June 20, 2020 at 11:00am
ISF2020: Tea with Waris
In this special online event, Waris Ahluwalia invites you to pause and take a cup of tea with him. "Tea is about taking a moment in your day to reflect", he says "For centuries, tea has brought people together." Waris drops in on a host of creative people around the world, for a series of interactions that last the length of a cup of tea. Travel the globe with one of the planet's most charming companions, with a cup of tea as the nucleus for conversation, art, performance or maybe a meditation or a dance party.
Saturday, June 27, 2020 at 11:00am
ISF2020: 5×15 Global Edition
5×15 is a speakers series that originated in London, with its home in the Tabernacle in Notting Hill, a beautiful heritage building where Pink Floyd and the Rolling Stones used to rehearse. Featuring speakers like Salman Rushdie, Gloria Steinem, Ben Okri and Brian Eno the series was quick to captivate. From there it spread to New York and Milan. Indian Summer Festival has hosted the only Canadian iteration of 5×15 every year, featuring the likes of Kamila Shamsie, Kamal Pandya, Wade Davis, Pico Iyer, Vivek Shraya, and Eden Robinson.
ISF presented a global edition, curated and hosted jointly by Eleanor O'Keefe (co-founder of 5×15) and Sirish Rao (co-founder of ISF). The format will be a little different for screen: 6 speakers talking for 10 minutes each, but no less brilliant. The curators will draw from a combined pool of 1500 speakers from around the world – watch this space for the lineup.
Saturday, July 4, 2020 12:00pm to 2:00pm
Tiffin Talks – Zanani / Zamana / Zameen
oin writer Shauna Singh Baldwin, filmmaker Baljit Sangra, and visual artist Sandeep Johal for an in-depth discussion moderated by Suvi Bains on how place and society affect how we imagine the feminine.
Saturday, July 11, 2020 7:00pm to 9:00pm
 Vij's at Home
Vikram Vij is a Canadian culinary gem. Anyone who has experienced Vikram's trademark hospitality knows that he always manages to create a distinct dining experience. In this special online event for Indian Summer Festival, Vikram gives a masterclass in Indian cuisine, creating a meal together with you in real time, in the intimacy of your own kitchen. Leo Award-winning actor Agam Darshi plays host, drawing out Vikram's life story, and the deeper things that a cuisine signifies – culture, gathering, affection, relationships… not for nothing is food referred to as 'the sixth language of love'.
Saturday, July 18, 2020 7:00pm to 9:00pm
10th Anniversary Closing Party
Follow the Indian Summer Festival on Facebook for updates.