CBC is hosting a public virtual town hall on racism on June 17th hosted by CBC journalists Lien Yeung and Angela Sterritt. Joined by several expert panelists from the community, the town hall aims to address systemic racism in the workplace, the media and in day to day interactions.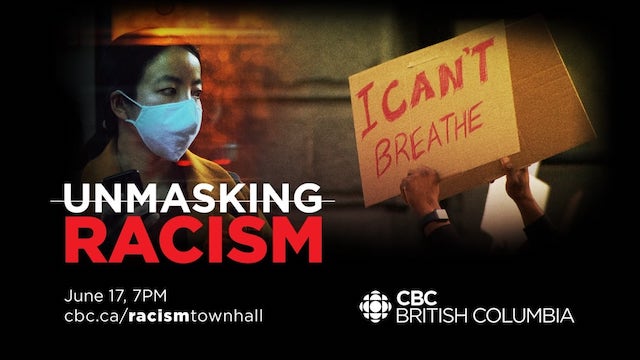 CBC Virtual Town Hall on Racism
When: Wednesday, June 17, 2020 from 7:00pm to 8:30pm
Where: Watch, listen and participate on CBC Radio One, Facebook, CBC Gem
Panelists include:
Manjot Bains, Writer and Former Senior Program Advisor in the Community Support, Multiculturalism and Anti-Racism Initiatives program of the Department of Canadian Heritage
Annette Henry, David Lam Chair in Multicultural Education; Professor, Faculty of Education and Social Justice Institute, UBC
Parker Johnson, SFU/Elevate Inclusion Strategies
Jahmira Lovemore-White, co-founder of Black Mutual Aid B.C., organizer with Black Lives Matter
Bowinn Ma, NDP MLA for North Vancouver-Lonsdale
Jeska Slater, Skookum Lab
Adrienne Smith, trans activist and human rights lawyer
Sgt. Valerie Spicer, VPD Diversity & Indigenous Relations Unit
Kory Wilson, Executive Director of Indigenous Initiatives and Partnerships at BCIT
They want to hear from you:
What's your experience with racism?
What changes do you want to see?
What can you do to be anti-racist?
Share your thoughts on these topics in two ways:
1. In advance of the town hall, send your stories, questions and comments via email ([email protected]) and telephone through the The Early Edition talk-back line (604) 662-6690. A producer may reach out to you for more information so please let them know how to contact you.
2. During the Town Hall, the public are invited to submit their questions, stories and feedback by calling 1-800-825-5950 or (604) 669-3733 or commenting on Facebook Live.
A recording of the town hall will also be made available on Facebook and CBC Gem after the event.