For over 50 years they have helped BC's kids with special needs and now you can participate in a 50/50 raffle for Variety BC to help them do even more good, while also having the chance to win big! Starting today (June 29th) raffle tickets can be purchased by British Columbia residents over 19 years of age, with a winning ticket being draw on September 8th.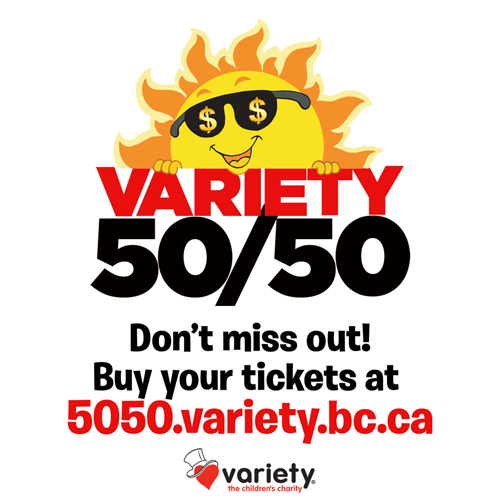 50/50 Raffle for Variety BC
Tickets: 1 for $5; 3 for $10; 10 for $25; 50 for $50. Buy online here.
Ticket buyers will receive a receipt by email listing their ticket numbers shortly after purchasing while jackpot updates will be posted regularly on Variety's social media platforms.
The winner will receive 50% of total sales with the remaining 50% going to fund medical supplies and mobility equipment along with essential therapies, mental wellness counselling and education programs for kids with special needs across the province.
Sell Virtual Tickets
Variety is currently recruiting for Volunteer Ticket Sellers. For more information or to sign up, contact Aly Karim, Manager, Events & Volunteers at aly.karim [at] variety [dot] bc [dot] ca.
Helping BC Kids be Kids
Variety – the Children's Charity steps in where health care ends providing direct help to children with special needs in BC. For over 50 years, Variety has ensured children have the support to reach their potential. Since 2010, Variety has distributed more than $30 million in funding to families and organizations in communities all across the province.
For more information about Variety follow along on Facebook, Twitter, and Instagram.
Miss604's Rebecca Bollwitt is Secretary of the Board of Directors, Chair of the Marketing Committee at Variety.