"It is something that we should get used to," said Dr. Bonnie Henry on Thursday. BC's provincial health officer has joined her federal counterparts in officially recommending the use of non-medical masks in certain situations during the COVID-19 pandemic.
Thanks to the efforts of local businesses, and many volunteers, there's no shortage of options for your non-medical mask needs. I found a few ways you can protect your community while looking stylish and supporting a local cause. These non-medical coverings are a win-win-win! Here are just a few Vancouver face masks for a cause that you can order up today:
Vancouver Face Masks for a Cause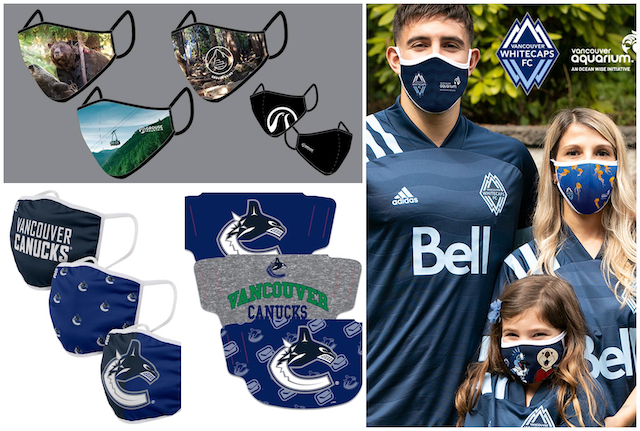 From: Vancouver Whitecaps FC
Supporting: Vancouver Aquarium
Mask Details: $17.99 – $19.99 + shipping. Available in three adult sizes and a kid size, featuring both logos, jellyfish, or kids design with Spike mascot.
Campaign Details: Vancouver Whitecaps FC and Vancouver Aquarium have joined forces to sell high-performance athletic face masks, with all net proceeds to benefit the aquarium during this critical period. Ocean Wise Conservation Association, which operates the Vancouver Aquarium, issued a call for urgent support as the educational, environmental, and conservation institution is in danger of permanent closure after closing their doors to the public.
From: Grouse Mountain
Supporting: Pacific Parklands
Mask Details: $19.95 + shipping. Non-medical face masks include designs featuring the Grouse Mountain Skyride, the Grouse Grind®, Grizzly Bears: Grinder & Coola and the Grouse Mountain Logo
Campaign Details: Pacific Parklands Foundation raises funds to protect and enhance Metro Vancouver regional parks for present and future generations and is the official non-profit partner of Metro Vancouver Regional Parks. Included in Metro Vancouver's regional parks is Grouse Mountain Regional Park which encompasses one of the area's most popular trail networks including the Grouse Grind and BCMC Trail.
From: NHL / Vancouver Canucks
Supporting: Food Banks Canada
Mask Details: $34.99 + shipping for a three-pack of face coverings featuring the Canucks logo.
Campaign Details: The NHL will donate its royalties from the purchase by the vendor to Feeding America™ (for US sales) and Food Banks Canada (for Canadian sales). Food Banks Canada is a national charitable organization dedicated to helping Canadians living with food insecurity. They support a network of Provincial Associations, affiliate food banks, and food agencies that work at the community level to relieve hunger.
From: BC Cancer Foundation
Supporting: BC Cancer Foundation
Mask Details: $20 with a wide range of designs. The masks celebrate the resiliency and creativity of patients by proudly featuring their artwork. Comfortable and made from sustainable, anti-bacterial fabric.
Campaign Details: Proceeds from every purchase directly benefit BC Cancer Foundation. Your purchase also directly supports local business and artisans.
From: NHL / Vancouver Canucks
Supporting: National Hockey League Foundation
Mask Details: $19.99 + shipping for a three-pack of washable spandex face coverings.
For a more extensive list, my friend Marc has a great resources with dozens of Canadian-made mask options here.