Megaphone Magazine has launched its 10th annual special literary edition — Voices of the Street — showcasing the literary talents of marginalized writers in Vancouver and Victoria.
Voices of the Street Available Now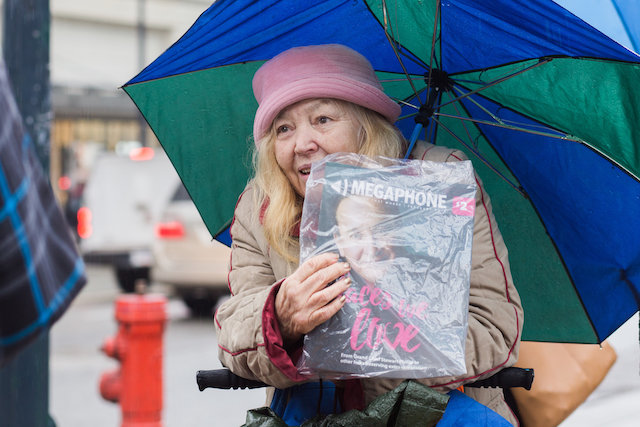 Megaphone is a non-profit organization that publishes an award-winning monthly magazine sold by 175 low-income vendors in Vancouver and Victoria. Vendors buy each magazine for 75 cents and sell it for $2, keeping the profit. By selling Megaphone, people experiencing poverty, homelessness or health challenges can earn income through meaningful, dignified work.
Megaphone also publishes an annual literary anthology, Voices of the Street. Many of the writers whose work is featured in the book are introduced to writing in Megaphone's various writing workshops, including weekly sessions at Onsite, a residential treatment program run by the Portland Hotel Society.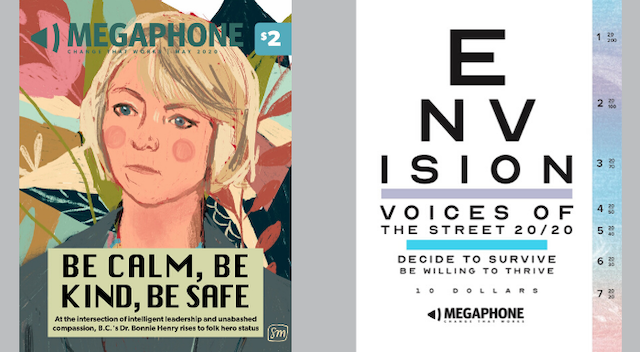 "Decide to survive. Be willing to thrive.
Let our beauty & vision keep us
Alive.
It is a paradox that the weakest among us
must work harder to overcome.
But there are so many examples of ones
who have gone before, that we can't hide
our eyes. When all of us grow, then diversity
can thrive."
— James Witwicki
In response to the COVID-19 pandemic, Megaphone has temporarily ceased street sales of its publications in order to protect its customers and vendors. As a result, for the time being, Megaphone is releasing its 10th edition of Voices of the Street online in digital format.
The theme of the 2020 Voices of the Street is "Envision" with 36 literary works focusing on the sense of sight and everything associated with that, including clarity, blindness, reflections and hindsight.
"Voices of the Street, while providing a platform for those least likely to be heard — people striving to survive in the midst of poverty, homelessness, and physical and mental illness — also unearths startling talents," says Megaphone managing editor Paula Carlson.
Megaphone supporters can now purchase this special literary anthology online, along with a copy of the latest Megaphone magazine, for $12. Readers can direct the funds to their usual vendor or Megaphone will distribute the income among all its active vendors.
Since shifting its sales model online, Megaphone has put more than $12,000 into the pockets of its team of vendors, helping them purchase essentials such as healthy groceries and COVID-19 cleaning supplies.
"In any other year, the launch of Voices would be an opportunity to gather with our supporters, celebrate the 36 unique contributions, and hear writers speak life into their poetry," says Julia Aoki, executive director of Megaphone. "We may have shut down street sales and events for the time being, but this beautiful compilation is still available, and 100% of proceeds will be distributed to vendors to create a bridge to better times."
Customers can purchase the special edition as well as Megaphone magazine online here now. Supporters are also encouraged to donate to Megaphone's emergency fund to help sustain the organization's essential operations such as magazine production and daily vendor support.