Jeans Day is now #JeanUp for the BC Children's Hospital Foundation!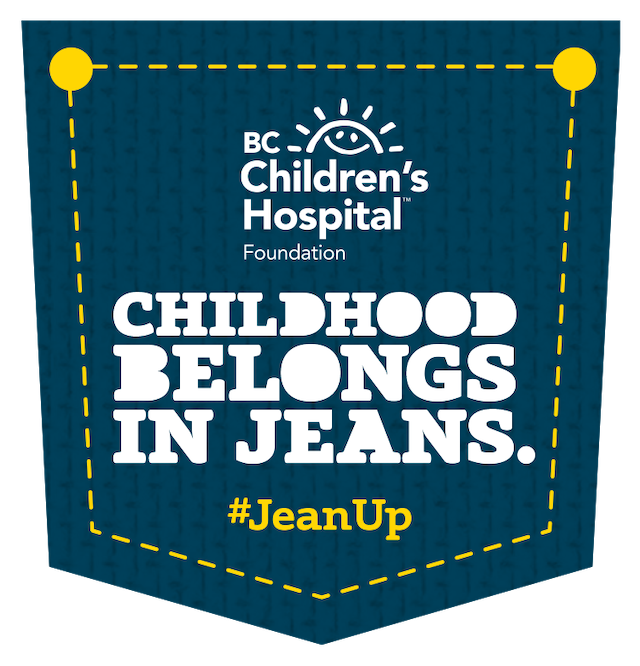 While many of us working from home might be tempted to stay in stretchy pants during COVID-19 isolation, the symbolism of putting on some jeans to face the wider world is that much greater when you think about kids at BC Children's Hospital.
By wearing jeans this May, you can help kids get out of their hospital gowns and back into their jeans.
It's Time to #JeanUp for BC Children's Hospital Foundation
Every year, over 93,000 kids count on the specialized care provided at BC Children's Hospital. By wearing jeans and donating, your support will fund everything from innovative research and equipment to specialized care that's tailored to the unique needs of kids.
As the only children's hospital in the province, tens of thousands of kids who visit the hospital each year count on the care provided here to undergo highly specialized surgery, endure chemotherapy to treat a rare form of cancer, or receive physiotherapy to recover from an injury.

During these trying and uncertain times with COVID-19, health care providers at BC Children's continue to do what they've always done—ensure kids and families get the expert care they need. But this pandemic has made their difficult jobs even harder.
By participating this May, you can make a difference. Your support will help health care providers respond to these rapidly evolving needs, while they continue to deliver the best possible care to kids so they can get back into their jeans sooner.
Whether you're a company, school or individual, pick a day that works for you. Then, on that day, proudly wear your jeans and virtual sticker and tag @bcchf on social media to show your support.
Miss604 is proud to once again be an Official JeanUp Ambassador! You can support my online fundraiser here.