It's been a Vancouver institution since 1919, and home of the legendary annual shoe sale, but it was announced today that Army & Navy is closing permanently.
Army & Navy is Closing Permanently
From The Province this morning:
In a statement Saturday, owner Jacqui Cohen said she has made the difficult decision to permanently close after they were forced to shutter all five of their stores and temporarily layoff their staff.

"We had hoped to re-open but the economic challenges of COVID-19 have proven insurmountable," she said.

"I am full of gratitude for our staff and their years of service, our suppliers with whom we forged decades-long relationships, and of course our loyal customers who were at the heart of our business."

Cohen noted that at this time last year they were celebrating the centenary of Army & Navy — a company her grandfather started in 1919 — and they were looking forward to the years ahead.
Army & Navy has operated in eight communities in Western Canada for the last 101 years.
Canada's Original Discount Store
Founder Samuel Joseph Cohen was born in San Francisco in 1897. He came to BC and at 19, he acquired his first stock by buying out a men's clothing store in Kamloops. He founded Army & Navy as a surplus store on West Hastings in 1919 with his father Jacob Solomon Cohen and brothers Joseph and Henry, eventually owning five stores. Cohen shunned the limelight, telling a reporter, "If I want any advertising, I'll pay for it." Army & Navy was cash only, offering "no credit cards, deliveries or fancy store fixtures." His motto was "Get the goods sold—there's always more to follow."
[Source: History of Metropolitan Vancouver by Chuck Davis]
Cohen opened a second store in Regina in the 1800 block of Scarth Street in 1920 and, in 1925, the mail-order headquarters. The first Army and Navy store in Edmonton opened in 1928, north of Jasper Avenue on the west side of 101 Street. Cohen's brothers, Joseph Cohen of Vancouver and Harry Cohen from Edmonton, joined him in the business.
[Source: Canadian Museum of History]
The New Westminster, BC, store opened in 1939.
During the Depression in Saskatchewan
Cohen was sensitive to the situation of prairie farmers and their need for practical, inexpensive goods. On retiring as manager of the Regina store, Cec Keiser was quoted in The Leader-Post, April 30, 1977: "Sammy was always concerned with the poor people and many of our customers in the 1930s were farm families and those on relief."
[Source: Canadian Museum of History]
Self-Serve Shoe Department
During the Second World War, Army and Navy was the first store in Western Canada to introduce self-serve shoe departments, with tables dedicated to individual sizes. The retailer became famous for its shoe sales, for which people would line up around an entire city block. Following the war, Army and Navy again carried army surplus goods.
[Source: Canadian Museum of History]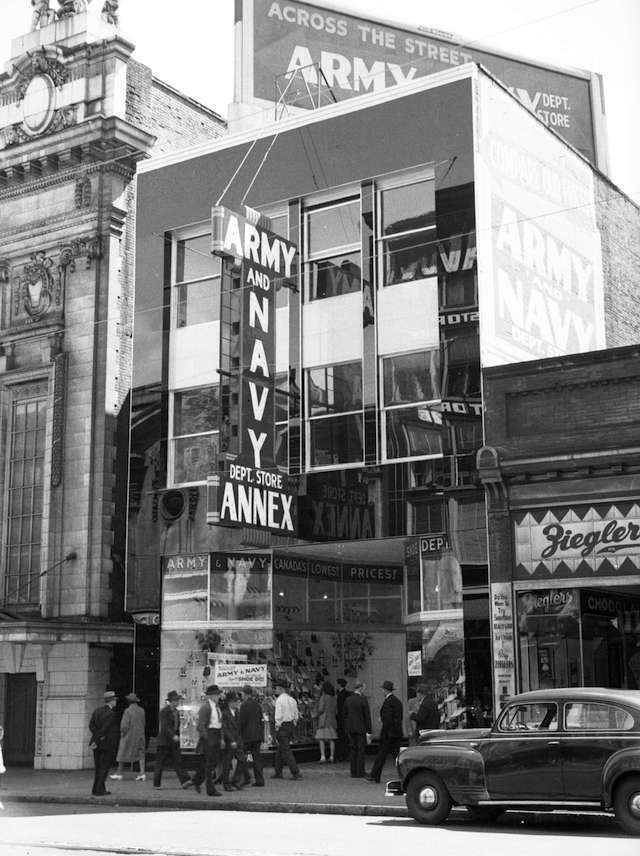 Cohen said she will be spending the weeks ahead ensuring the women and men who have worked for Army & Navy have their support, and will focus on the philanthropic work of Face the World, an organization she created 30 years ago to support the city's most vulnerable.