It's a weekly concert series for a cause! White Spot presents Wednesday Night Live for Variety BC starting April 15th at 7:00pm, live on Facebook.
Wednesday Night Live for Variety BC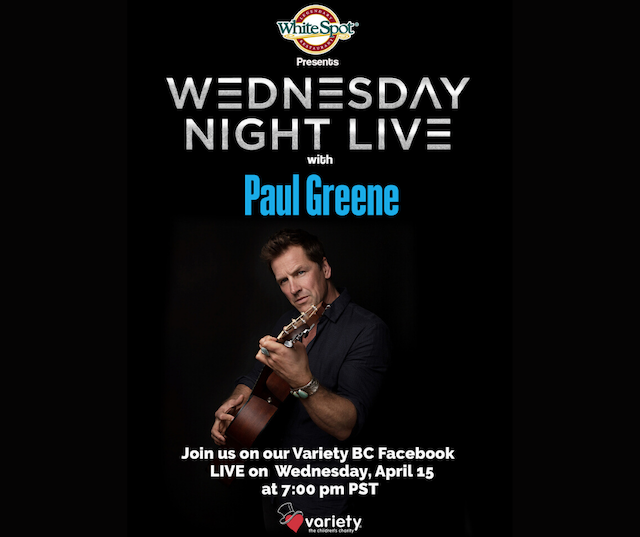 When: Wednesdays starting April 15, 2020 just after the 7:00pm cheer
Where: Variety's Facebook Page, RSVP to get a reminder
For the first concert, actor and songwriter Paul Greene (When Calls the Heart) will be performing with a takeover of Variety's channel. You may remember his appearance on the Show of Hearts Telethon back in February. Tune in, enjoy the show, and make a donation by texting KIDS to 45678 or doing so online.
Variety's Response to COVID-19
Variety BC has been there for more than 50 years ensuring kids with special needs thrive. During this uncertain time, they will continue to be there for BC's kids with special needs.
With the closure of BC's schools, the need to ensure kids are supported has never been so great. As such, the Heart of Variety Fund will continue to accept grant accept applications by e-mail. You can find a full COVID-19 update letter here.
Starting today, you can donate to the COVID-19 Heart of Variety Fund and help fund virtual therapies, counselling and tutoring to ensure vulnerable kids don't lose the progress they have worked so hard to achieve.
For the first 20 donors to make a donation of $500 or more, Buy-Low Foods and Variety will provide $100 of groceries to a Variety Family in need. Your gift will have a double impact!
Follow Variety BC on Facebook for updates.
Extended Schedule
The concert series will run through May, 2020 as well! The latest performers will be added here.
April 22, 2020: Aaron Pritchett
April 29, 2020: Tanner Olsen Band
May 6, 2020: Shawn Austin
May 13, 2020: Andrew Waines
May 20, 2020: The Matinee
Miss604's Rebecca Bollwitt is Variety's Secretary of the Board of Directors.