National Canadian Film Day ("NCFD") aims to unite Canadians in a celebration of our cinematic culture and for its 7th annul event, it will be moving screenings and events online. Watch an assortment of features through your favourite streaming service and tune into a special live YouTube event with an array of directors, producers, writers and actors from across Canada.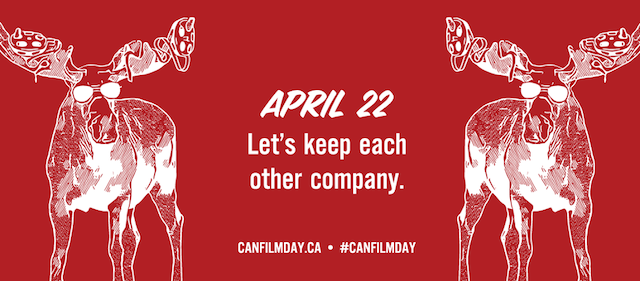 National Canadian Film Day:
#CanFilmDay Live
When: Wednesday, April 22, 2020 from 3:00pm to 6:00pm PST
Where: On Reel Canada's YouTube account
#CanFilmDay Live will feature engaging, interactive activities, conversations with filmmakers and other industry professionals, short videos submitted by Canadians, "Happy NCFD" messages from around the world, and more.
Confirmed guests who will take part in the livestream programming include Sandra Oh, Atom Egoyan, Colm Feore, Mina Shum, Philippe Falardeau, Vinay Virmani, Patricia Rozema, Emily Hampshire, Peter Keleghan, Mary Young Leckie and Don McKellar. Many others are being confirmed daily. 
Last year, Vancouver communities hosted nearly 28 screenings and there were a total of 134 screenings throughout the province. This year, the Vancouver International Film Festival ("VIFF") team will be supporting the broadcast of films Last Night (Encore + and Hollywood Suite) and Meditation Park (Crave and CBC Gem), with online engagement for local fans featuring Don McKellar (Last Night's director and star and Meditation Park actor), Sandra Oh (Meditation Park and Last Night) and Mina Shum (Mediation Park's director).
Stream Films
There will be great Canadian films on CBC, CBC Gem, Encore+, Netflix, Hollywood Suite, Crave, the NFB and the many others listed on the website.
"While there is a huge selection of pop-up home entertainment happening, we believe that Canadians are hungry for an opportunity to be part of something larger, and especially something Canadian. It's a chance to come together and give each other a big virtual hug," said Jack Blum, Executive Director of REEL CANADA.
Special programming will be made available to more than 150 retirement residences and long term care facilities, including video introductions from the filmmakers. Reel Canada hopes these offerings will bring some comfort and much-needed cheer to our most vulnerable citizens, who are in isolation and away from their families and loved ones.
There will also be a wealth of family-friendly programming during the day, to help Canadian parents looking for activities to do with their kids. There will be have games, printable colouring pages, online scavenger hunts and other fun (and educational) content, as well as a list of kid-appropriate films that Canadians can access for free.
One April 22nd you'll find a curated list of 20+20 films to give you a boost, and with the help of NCFD's (soon to be released) toolkit, you can organize your own "Canadian film watch party". Watch for updates on Facebook and Twitter in the coming days.