My friends and family are heading into our 4th week of virtual Friday night gatherings online, as is the norm during in the COVID-19 pandemic. Since we're not going out, companies finding creative ways to support local businesses. Molson Canadian's Virtual Happy Hour contest aims to support your favourite local restaurant, and reward you in the process.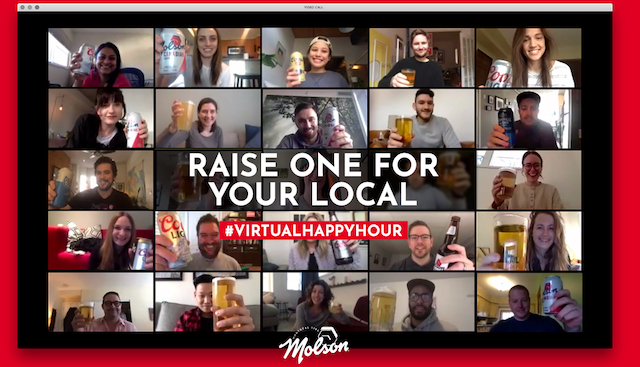 Molson Canadian's Virtual Happy Hour
Molson is inviting people to connect over a #VirtualHappyHour and rewards hosts with a $25 gift card for use at their favourite local bar or restaurant.
How it Works
Get your friends together over a Virtual Happy Hour and raise a beer. Not just Molson beer, any beer.
Share a screenshot or video of you and your friends with #VirtualHappyHour and tag your favourite local restaurant or bar, as well as Molson Canadian on your Instagram page, or @Molson_Canadian on Twitter.
Molson will buy you a $25 gift card for use at the local restaurant or bar you tagged. Now you can help support your favourite local hangout when it needs it most, and have a great reason to go back when you can.
"For now, while we can't raise one at our favourite local spot, we can raise one for it, and with the promise of an IRL meet-up to come," says Joy Ghosh, NA Marketing Director, Molson Family of Brands. "Supporting local businesses – in the good times, and the not so good times – is part of John Molson's legacy as one of Canada's first entrepreneurs."
The program runs until April 30, 2020 or while supplies last (whichever comes first). Rules on how to participate are available on the website. Follow @MolsonCanadian on Instagram and @Molson_Canadian on Twitter to see #VirtualHappyHour being featured from coast to coast.