To celebrate Canada #TakeoutDay, CRAFT Beer Market has announced its brand new food and beer delivery program along with a variety of charitable initiatives.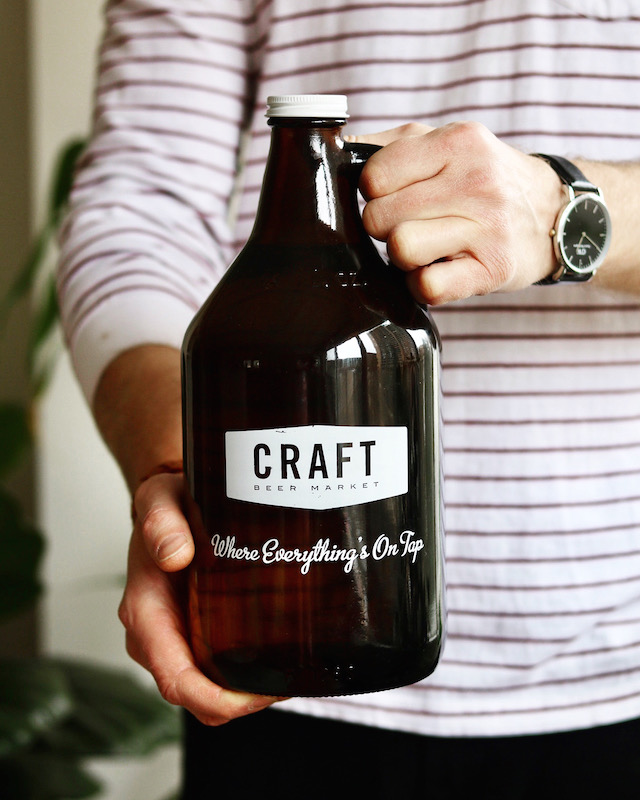 CRAFT Beer Market's New Food and Beer Delivery
"This has been devastating for our team, our business and all of our partners and suppliers," says PJ L'Heureux, President and Founder of CRAFT Beer Market. "Our hopes in safely resuming business through curbside pick up and delivery is to get some of those people back working and doing what we love most."
Team Member Support Through Swag
CRAFT has also set up a Team Member Support fund with 100% of all gift card and apparel sales going to assist Team Members in urgent need.
Menu Highlights
CRAFT is best known for its selection of over 100 beers on tap in all of its locations and, for the first time ever, guests will be able to order growlers of beer for pick up or delivery. Along with beer, they are starting out with a specialty menu featuring some of their classics alongside new menu items. Guests can look forward to new items being added weekly.
Growlers of beer – rotating selection of local craft beer and international favourites
Burgers, pizzas, wings & more
Combo meals/dinner for 2
½ price bottles of wine
Spirits, hard beverages (White Claw, etc.) and non-alcoholic drinks
Mealshare and More Charity Assistance
The ripple effect of restaurants closing has been the impact on suppliers as well as community and charity partners, like Mealshare, that work closely with the industry. The charities that the Mealshare program supports have seen a dramatic increase in demand for their services.
For a small contribution of $5, CRAFT is giving their guests the opportunity to buy meals for youth and children in need. CRAFT is matching that with another $5 and together will be able to provide 10 meals to a child in need that would have received that nutrition through breakfast or lunch programs at school, after school or weekend initiatives with their neighborhood clubs.
Charities that will benefit from this partnership include Brown Bagging for Calgary's Kids, Food for Thought in Kelowna, Operation Come Home in Ottawa, Kidsafe in Vancouver and The Stop in Toronto. To date CRAFT has provided over 67,000 meals through their partnership with Mealshare.
Follow CRAFT in Vancouver on Facebook for more updates. Canada #TakeoutDay launched on April 15th and aims to make every Wednesday take out day.