It's a handy guide to the province's craft beer scene paired with local culture and this month the BC Ale Trail celebrates International Women's Day by shining a spotlight on women in the typically male-dominated industry.
BC Ale Trail Celebrates International Women's Day
Check out the lineup of brews and events around BC:
Top of the list is a PMS Beer – Aunt Florence, from Barkerville Brewing in Quesnel. It's a craft beer created to alleviate negative premenstrual symptoms using herbs that can reduce inflammation, cramping, and bloating, and will improve circulation and relieve stress. Proceeds from the beer will be donated to this year's charity of choice, Ovarian Cancer Research. 
The Pink Boots Society has partnered with Yakima Hops Co to make an exclusive Pink Boots Collaboration Brew Day hops blend available for brewers to purchase with proceeds going towards educational sponsorship and programming for Pink Boots members. The Pink Boots Society was originally developed in alignment with International Women's Day to celebrate women's achievements in the beer industry. The society assists, inspires and encourages women beer industry professionals to advance their careers through education.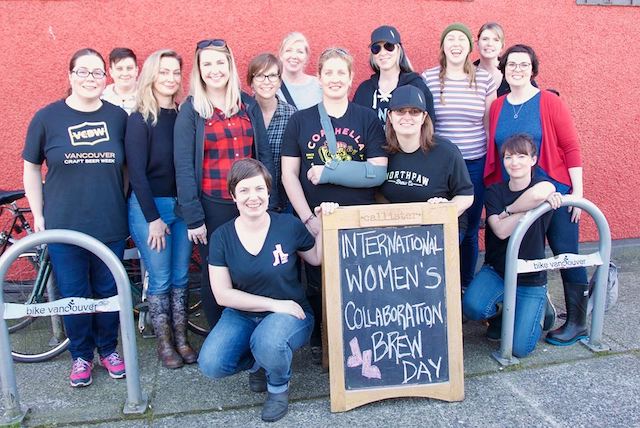 Kelowna's Rustic Reel Brewing's Reel Day Retreat is an all women, all-day event with inspirational speakers, activities, food and beer.
Vancouver's Callister Brewing's Women's Brew Day is a day tailored to female homebrewers and brewing professionals to share knowledge and just hang out with like-minded/brewing enthusiasts, located in the heart of Yeast Van.  
About the BC Ale Trail
In partnership with Destination British Columbia and the BC Craft Brewers Guild, the BC Ale Trail emphasizes how a visit to or around British Columbia is enhanced with a pint of craft beer culture. With an increasing preference for local craft beer in BC and growth of artisanal beer in North America, the BC Ale trail embraces the "buy local" movement, helps showcase independent breweries, and connects visitors with the unique culture at the heart of communities all over the province.