Update: March 25, 2020 a statement from the TUTS Board:

A Message to Our Community

We would like to extend our heartfelt gratitude to you all for your unwavering support of Theatre Under the Stars (TUTS) and for all you have done and continue to do to support the organization. These are difficult and unprecedented times. After considering every possible measure and eventuality, it is with heavy hearts that we announce the cancellation of the 2020 TUTS season: Disney's Beauty and the Beast and Hello, Dolly! 

All of us here at TUTS send our heartfelt wishes to you and those affected by the extraordinary circumstances surrounding the COVID-19 virus.

Cancellation of the 2020 productions is one way we can prioritize the safety of our audiences, artists, crews, staff, and volunteers, while supporting our city and those working on the front lines to help flatten the curve. These measures will also ensure that TUTS remains strong and healthy as an organization, returning to Malkin Bowl in 2021 with the presentation of fantastic shows that you – our beloved audience – anticipate year-over-year. 

If you are a 2020 TUTS subscriber and current ticket holder, we have a couple of ticketing options available to you. This information will be forthcoming before end of day today (March 26). Thank you for your patience. 

We remain extremely grateful for your continued love and support of TUTS – together we will manage through the challenges ahead. We look forward to seeing you all next season where our artists, crews, volunteers, and staff will return – stronger than ever, thanks to your support. 

Please stay in touch. You can do so via our social media channels: Facebook, Instagram, and Twitter. 

Stay well and be safe, 

TUTS Board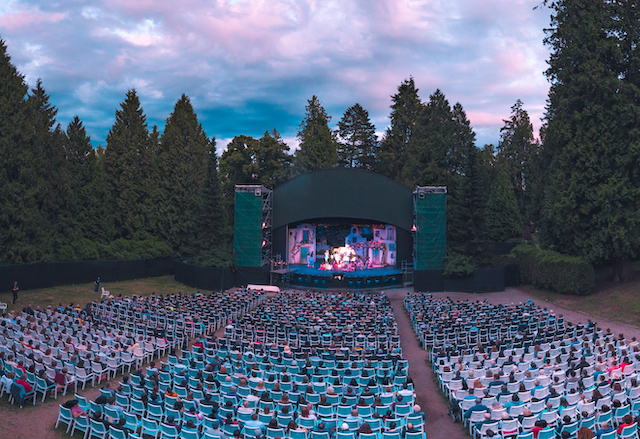 80th Season of TUTS Presents Disney's Beauty and the Beast and Hello, Dolly!
For the 80th season of TUTS audiences will be enchanted with presentations of Disney's Beauty and the Beast and Hello, Dolly! on alternate evenings July 4–August 29, 2020, at Stanley Park's Malkin Bowl. Celebrating a milestone 80 years in Stanley Park, Theatre Under the Stars ("TUTS") has become a summer mainstay of Vancouver cultural calendars since it was established in 1940.
Where: Malkin Bowl in Stanley Park (610 Pipeline Rd, Vancouver)
When: July 4–August 29, 2020
Tickets: Two-show subscription packs are on sale TODAY through May 1, 2020. TUTS' two-show subscription pack allows audiences to secure their seats to both productions for one great price. Subscriptions are $80 for adults, $50 for children and youths, and include Premium tickets to both productions, a souvenir programme, and exchange insurance for both nights. Subscriptions are available until May 1st by visiting tuts.ca or by calling 1-877-840-0457.
A tale of true love, Disney's Beauty and the Beast follows the enchanting story of Belle, a young woman imprisoned by the Beast. She's a small-town girl with big dreams and he's a selfish prince transformed by a wicked spell. Can the Beast learn to love and be loved in order to break the curse? He must race against time to find out. Filled with some of the most memorable songs, including Be Our Guest, Human Again, and the titular Beauty and the Beast, this romantic production reminds audiences of the power of love. Following on the success of his direction in 2016, Shel Piercy returns to direct the beloved spectacle, injecting a host of new, exciting surprises. Fans will remember the magic of his most recent TUTS directorial extravaganza in 2019, Mamma Mia!
In Hello, Dolly!, audiences join meddlesome matchmaker Dolly Levi as she travels to Yonkers, New York to find a wife for the curmudgeonly "half-a-millionaire" Horace Vandergelder. Dolly's romantic schemes soon entangle Horace's two clerks and a lovestruck young artist. As she busies herself finding mates for the suitors, Dolly realizes it's her turn to find her own perfect match. One of the most entertaining musical comedies of all time, Hello, Dolly! is a beguiling romp in the universal search for love, with numbers such as Put On Your Sunday Clothes, Ribbons Down My Back, and of course the show-stopping Hello, Dolly! The talented Tracey Power makes her TUTS directorial debut this summer, although Vancouver theatre-goers will be familiar with her critically acclaimed direction in Chelsea Hotel: The Songs of Leonard Cohen and her playwriting from the recent musical Miss Shakespeare.
In 1940, Theatre Under the Stars started when a group of local theatre people formed to produce professional quality musicals during the summer. Since then, TUTS has been a Lower Mainland tradition, delighting generations of locals and tourists alike under the stars in the pastoral outdoor setting of historic Malkin Bowl in Stanley Park.
For more information follow Theatre Under the Stars on Facebook and Twitter.