On March 12, 2010, the spirit of the Olympics was amplified when the Vancouver 2010 Paralympic Games opened in front of 60,000 people at BC Place and featured amazing acts like Luca "Lazylegz" Patuelli. The theme was "one inspires many" and it was certainly off to the right start.
Ten years ago I wrote the following about the opening of the Paralympics in Vancouver:
Miss604.com on March 12, 2010
I had a familiar feeling this morning as the Paralympic flame looped its way around the downtown core during its 24 hour relay. Pedestrian thoroughfares, tents, displays, torchbearers, and cheerful passersby wearing red mittens. The Vancouver 2010 Paralympics Games kick off tonight with the Opening Ceremony at BC Place and the excitement among the Canadian Paralympic Committee members and their athletes is palpable.
"The hype has taken our athletes by storm," said Chef de Mission, Blair McIntosh. The athletes were welcomed at the airport, honoured at a pep rally in Whistler, and now they'll get to march into BC Place Stadium as representative of excellence in sport for their country.
"The team is the strongest and biggest ever," McIntosh added saying that the Canadian Paralympic Committee is projecting that Canada will finish within the top 3 countries in medal standings.
He was right! Canada finished third in the medal count with 19. I got to witness history in Whistler on March 18, 2010 during the ParaAlpine events. I saw Viviane Forest win gold (after her silver earlier in the week), and Josh Dueck win silver. Over in the Callaghan Valley Brian McKeever got his 9th Paralympics medal. As McKeever and his guide skied down the final stretch, the announcer proclaimed to the enthusiastic crowd at Whistler Paralympic Park that they were witnessing the greatest cross-country skier of all time.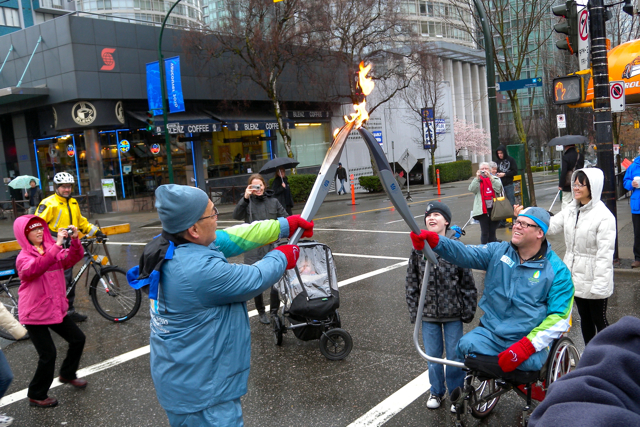 Relive and celebrate some of that magic on Thursday, March 12th as the cauldron is re-lit in the afternoon.
10th Anniversary of Vancouver 2010 Paralympic Games
What: Lighting of the cauldron
Where: Jack Poole Plaza
When: Thursday, March 12, 2020 from 2:30pm to 3:15pm
Details: Special guests include The Honourable Lisa Beare, Minister of Tourism, Arts and Culture; The Honourable Shane Simpson, Minister of Social Development and Poverty Reduction; Ian Aikenhead, Q.C., Chair, PavCo; Gail Hamamoto, Vice President, Canadian Paralympic Committee; Nate Riech, Professional Athlete, Team Canada; Elizabeth Irving, performing 'O Canada' and 'I Believe'
This event has been postponed.