Enjoy free admission during Spring Break at Burnaby Village Museum (March 16-27, 2020) with special activities and games every day.
Spring Break at Burnaby Village Museum
Where: 6501 Deer Lake Ave, Burnaby
When: March 16 to 27, 2020 from 11:00am to 4:30pm
Admission: FREE! Carousel rides are $2.65
CANCELLED: Due to the COVID-19 outbreak, the City of Burnaby has closed access to facilities include Burnaby Village Museum for the time being.
Crocuses and cherry blossoms, a slice of pie with ice cream, games, a carousel, and a whole lot of history. There's a reason so many Hallmark films use this location as a setting for their idyllic towns!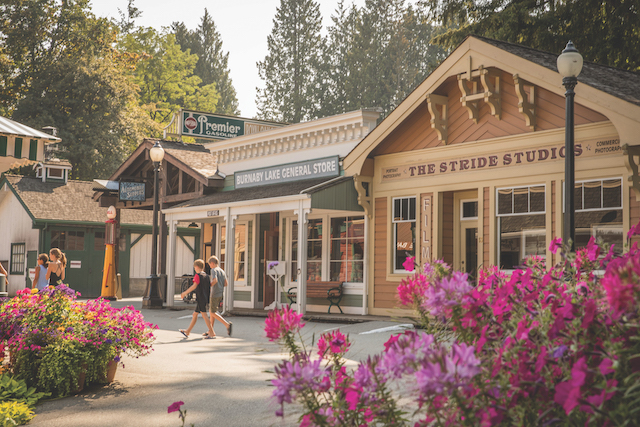 With special activities and games every day, visitors can explore the 1920s Village on a scavenger hunt, learn about Chinese Canadian history at the Across the Pacific exhibit, and explore Indigenous ways of knowing and learning with our Indigenous educators at the Learning House. Wander through the gardens, take a ride on the vintage 1912 C.W. Parker carousel and treat yourself at the Ice Cream Parlour.
Enhance Your Visit
Adventure Guides ($6)
The 24-page Guide is full-on 1920s fun. The special activities at 6 locations in the Village lead Adventurers through some of the daily routines and tasks of the period.
There are experiences and activities in the Dry Goods, Tinsmith, Royal Bank, General Store, Tram Barn and Carousel Pavilion. Adventurers need to be observant, thoughtful and ready to try new things. Guides also include post-visit projects. Children can take on the Adventure by themselves or work with adult partners.
Includes a carousel ride
Village Adventure Packs ($19.50)
The Adventure Guide leads you through hands on creative activities and exploration adventures at 6 locations around the Village.
Includes two rides on the carousel, as well a large ice cream cone from our authentic Ice Cream Parlour
At the end of the day, a canvas adventure bag, carousel magnet, Burnaby Village Museum reusable water bottle and, of course your completed Adventure Guide will make wonderful mementos.
There's a lot to see and do over Spring Break at Burnaby Village Museum! Follow along on Facebook, Instagram and Twitter for more info. Miss604 is a proud media partner of this events.