Pink Shirt Day is February 26th and London Drugs continues its long-standing support of the campaign by returning as the official retail partner in 2020. This year's message for #PinkShirtDay is the positive and encouraging words of "Lift Each Other Up".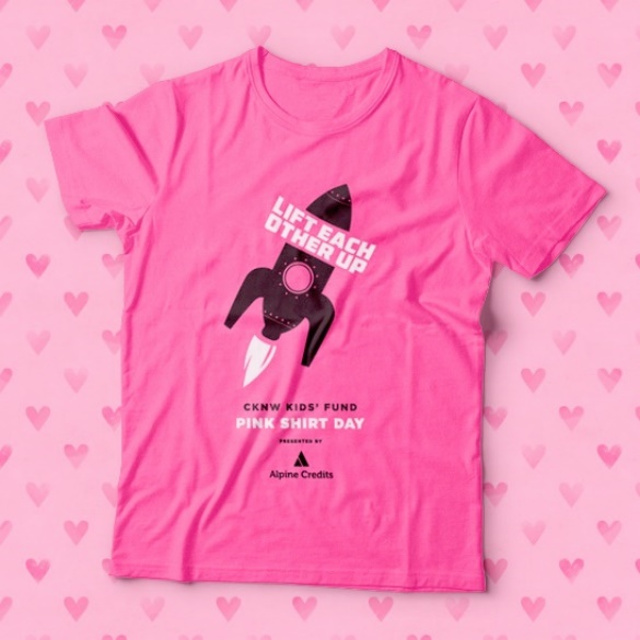 Pink Shirt Day 2020: Lift Each Other Up
Pink Shirt Day has become a national movement which sees thousands of Canadians wearing pink to show their support for safe and inclusive schools, workplaces and communities.
"We want to encourage every Western Canadian to share the positive message of Pink Shirt Day this year," said Clint Mahlman, London Drugs President and Chief Operating Officer. "Since becoming involved with this campaign when it first launched 13 years ago, through our customers generosity, we have raised $1.5 million toward the CKNW Kids Fund, and various anti-bullying efforts across Western Canada. A true example of how our customers and staff have worked to lift each other up."
Official Pink Shirt Day t-shirts are now available at all London Drugs locations across Western Canada in youth or adult sizes. Net proceeds are distributed through CKNW Kids' Fund to support youth anti-bullying programs at Boys & Girls Clubs across British Columbia, Alberta, Saskatchewan and Manitoba. Sales from shirts are given back to community programs in each provincial market for important community programs including anti-bullying initiatives.
London Drugs has been a proud retail sponsor since 2008 and continues to provide support across Western Canada to facilitate the powerful message of anti-bullying. In addition to pink shirts, London Drugs will also be selling pink wrist bands to raise awareness and funds to support this integral campaign.
About Pink Shirt Day
In 2007, two Nova Scotia students decided to take action after witnessing a younger student being bullied for wearing a pink shirt to school. The students bought 50 pink t-shirts and encouraged schoolmates to wear them and send a powerful message of solidarity to the bully.