North America's only feminist literary festival, Growing Room, marks its fourth year by expanding to a literary and arts festival. The cross-genre celebration will feature more than 85 nationally-renowned authors, poets, filmmakers, comedians, dancers, musicians and artists from across the country, to celebrate inclusive storytelling in all its forms during readings, discussions, workshops and parties.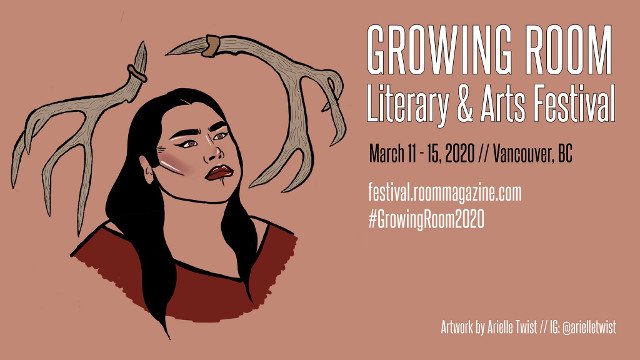 Growing Room Festival
When: March 11-15, 2020
Where: Various locations throughout the city
Tickets: All panels and readings are by donation. Workshops are $15. More information on registration here. Recommended donation tiers are: $12.50 (regular), $25 (generous), and $40 (includes a one-year subscription to Room Magazine).
Celebrated for spotlighting BIPOC, queer and marginalized voices throughout the festival, Growing Room continues to connect communities across identities, genre and form.
This year's theme of worldbuilding speaks directly to this need. As Canada's social landscape becomes more diverse, and a new generation shares stories that are both passionately political and open-hearted in the face of growing hate crimes and regionalism, Growing Room responds with a timely line-up of cross-genre events that celebrate the many ways we can proudly be ourselves through art.
The festivities kick off on March 11th with a dance party and concert featuring music from R&B, funk, and soul artists Tonye Aganaba, Chelsea D.E Johnson and Desirée Dawson; a set by one of Vancouver's leading female DJs, DJ Denise; and hosted by Jillian Christmas and jaye simpson.
Growing Room will continue to partner with Indigenous Brilliance for a celebration of Indigenous storytelling, hosted by jaye simpson, Karmella Cen Benedito De Barros, Patricia Massy and Emily Dundas Oke. A festival favourite, Growing Room's hands-on, creative workshops now cover topics ranging from crafting the perfect short story to an introduction to burlesque.
For more information visit the Growing Room website and follow Room Magazine on Instagram and Twitter.