Spring Break is just around the corner and local businesses and attractions are gearing up by loading their calendars. Whether your child is into nature, science, or the performing arts, there's a lineup of Spring Break Day Camps in Vancouver that can accommodate, educate, and entertain!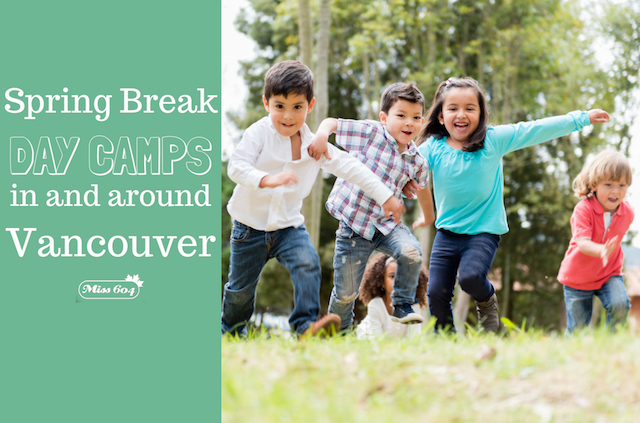 5 Spring Break Day Camps in Vancouver
Spring Eco Camp in Stanley Park
Where: Stanley Park Ecology Offices (610 Pipeline Road, Vancouver)
When: March 16 to 27, 2020 8:30am to 4:30pm
Details: Rain or shine! Stanley Park Ecology Society offers Eco Camp for children ages 7 to 11. Embark on an exciting educational adventure among the giant trees, sandy beaches and hidden wetlands of Stanley Park. This spring, spot migrating waterfowl, search for signs of flying squirrels and beavers, embark on an epic day hike through the park, and learn of animal adaptions to the temperate rainforest ecosystem of the Pacific Northwest, all while spending valuable time outdoors. Campers can stay for one week, or for both! Note that some activities are the same for each week.
Spring AquaCamps
Where: Vancouver Aquarium (845 Avison Way, Vancouver)
When: March 16 to 20 & March 23 to 27, 2020 9:00am to 3:00pm
Details: AquaCamps are filled with hands-on activities, animal observations, crafts and time to run around outside to fully engage your children in an environment that encourages active learning. Children will learn about local and exotic animals, life cycles, food webs, adaptations, ecosystems and sustainability.
Arts Umbrella Spring Break Camps
Where: Granville Island or South Surrey
When: March 16 to 20 & March 23 to 27, 2020
Details: Spring Break at Arts Umbrella is where young artists let their imaginations free – be it capturing photos or popping cool hip-hop moves. Week-long camps and programs let students get creative through Theatre, Dance, and Visual Arts classes. Young artists challenge their curiosity and stretch artistic boundaries.
Spring Break at Christianne's Lyceum of Literature and Art
Where: Christianne's Lyceum (3696 West 8th Ave, Vancouver)
When: March 16 to 27, 2020 9:00am to 4:30pm
Details: Each day of our spring break program is devoted to one book, allowing plenty of time to read selections, and use these readings as the jumping off points for troves of priceless artistic creations, and adventurous outdoor forays. Children don't need to have read these books before attending camp – the program is designed to work both as an introduction for newcomers, and a celebration for those who have visited these pages before. The camp schedule is customizable. Your child can come for a day or two of our programming, join for a week, or join for the entire two weeks. Each day of camp stands alone, but also links thematically to all the other days. This makes it easy to drop in for a day of Harry Potter magic, or Despereaux chivalry, but it also means that those joining us for longer benefit from a rich and layered experience.
Vancouver Police Museum's 2020 CSI Spring Break Camp
Where: Vancouver Police Museum (240 E Cordova St, Vancouver)
When: March 18 to 20 or March 25 to 27 from 10:00am to 2:00pm
Details: An exhilarating, three-day crime-solving spree, featuring exciting opportunities for kids and pre-teens to work on criminal investigations and forensic science activities. Designed for Junior Detectives aged 9-12, this jam-packed spring break camp lets eager detectives take part in solving a case, meet real people from the VPD, meet the VPD canine unit, learn about forensic science and more!
Bonus!
Spring Break at the Gulf of Georgia Cannery (Richmond)
Spring Break Day Camps (Surrey)
Spring Break at the Museum (Surrey)
Spring Break at Burnaby Village Museum (Burnaby)
For more inspiration, stay on top of Miss604's event listings here »