Variety – the Children's Charity of BC presents its 54th annual Show of Hearts Telethon this Sunday, February 9, 2020 on Global BC from 9:30am to 5:30pm. This year's show will be filled with inspiration, celebration, and some amazing entertainment!
5 Reasons to Tune into the Show of Hearts Telethon on Sunday

The Hosts:
Along with the Global BC team including Chris Gailus, Sophie Lui, Squire Barnes and Kristi Gordon who will be joined by 980 CKNW's Jody Vance and more. They'll be joined by actor Paul Greene, inspirational speaker Cara E. Yar Khan and long-time Show of Hearts favourites, Alvin Law, Marco Pasqua, and Esabella Strickland.
The Entertainment:
This year's entertainment line-up will feature performances by Juno Award-winning indie band Said The Whale, singer-songwriter Shawn Austin, Canadian blues rockers Wide Mouth Mason, country artist Todd Richard and special guests, multi-platinum selling group The Tenors.
Donor Benefits:
Aside from knowing that your donation goes to help BC kids with special needs, providing specialized therapies, mobility equipment, mental wellness, education programs, or life-saving medical equipment, there are also some great donor gifts this year.
Become a monthly donor to Variety and receive a stainless steel Variety water bottle. Donate $169 and you'll get a coveted Robert Bateman poster (Woodworkers – Pileated Woodpeckers) sent your way as well.
Awesome Moments:
It was a Sunshine Coach reveal to remember during last year's Show of Hearts when Variety presented a Sunshine Coach to the Take-a-Hike Foundation. This year promises to be just as memorable when the 608th Sunshine Coach will be presented to another amazing organization that supports BC's kids with special needs. Be sure to watch and be part of the excitement while donating $1,047 to become a Sunshine Coach Champion.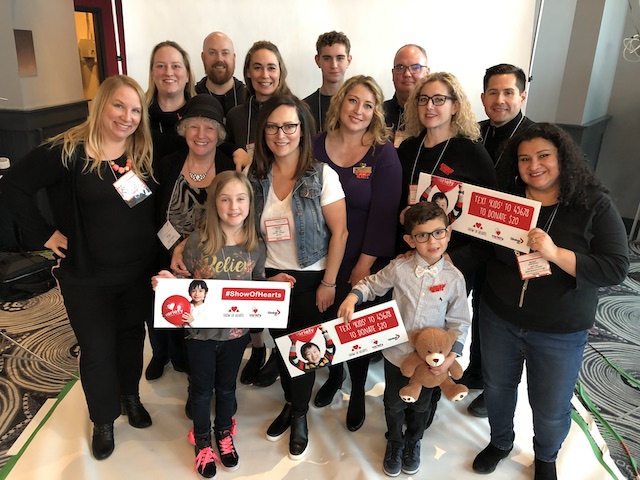 Meet Variety Families:
During the Show of Hearts, I have the enviable task of running the Miss604 Social Lounge where I get to meet generous donors, supporters, and some of the incredible families that Variety has helped throughout this past year. Tune in to the broadcast to meet some incredible Variety kids and families, hear about their journeys, and how Variety (and its awesome supporters) have provided assistance to brighten their lives.
It's really easy to support Variety! Donations can be made online, toll-free by phone at 310-KIDS or by texting KIDS to 45678 to make an automatic $20 contribution.
Miss604's Rebecca Bollwitt is a proud executive of the Board of Directors of Variety – The Children's Charity, and Chair of its Marketing Committee. Miss604 is proud to sponsor Social Lounge at the Show of Hearts.