Vancouver Whitecaps FC have announced that Covenant House Vancouver will be the club's new 50/50 fundraising program partner. All proceeds from the 50/50 program at Whitecaps FC home matches during the 2020 season will be donated to improve the lives of Vancouver's homeless and at-risk youth.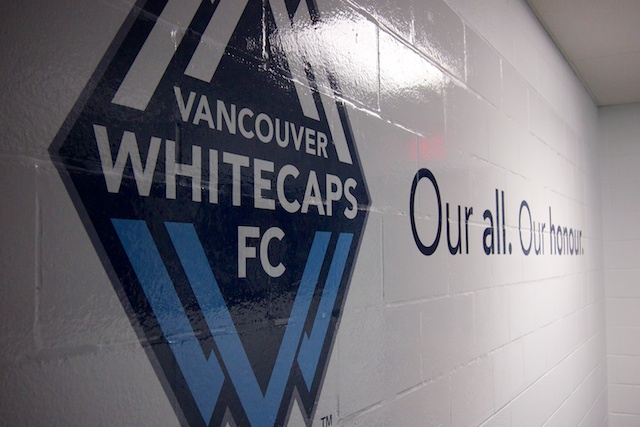 Whitecaps FC partner with Covenant House Vancouver for 50/50
Since 1997, Covenant House Vancouver's purpose has been to serve all youth with absolute respect and unconditional love, to help youth experiencing homelessness, and to protect and safeguard all youth in need. The organization's Continuum of Care model includes a daily drop-in centre, a 63-bed residential crisis program, transitional living resources, life-skills training, and substance and mental health support.
"Covenant House Vancouver is honoured to have been chosen as the 50/50 program recipient," said Allison Briggs, development officer of community giving for Covenant House Vancouver. "The 50/50 program donations will directly impact youth who are either at-risk or experiencing homelessness in our community. This funding will ensure young people's immediate needs are met; having a warm bed, nutritious food, access to counselling and so much more. All of us at Covenant House Vancouver are incredibly grateful for the support from Vancouver Whitecaps FC and their dedicated fans."
Whitecaps FC have participated in various Covenant House Vancouver initiatives throughout the years. Players, executives and staff have participated in several Sleep Out events, spending a night on the street to demonstrate their commitment to alleviating homelessness. The club has also hosted an annual #BuckUp for Mental Health campaign to raise funds via raffles, auctions and donations. As a result of the club's community efforts, well over $335,000 has been donated to Covenant House Vancouver to date.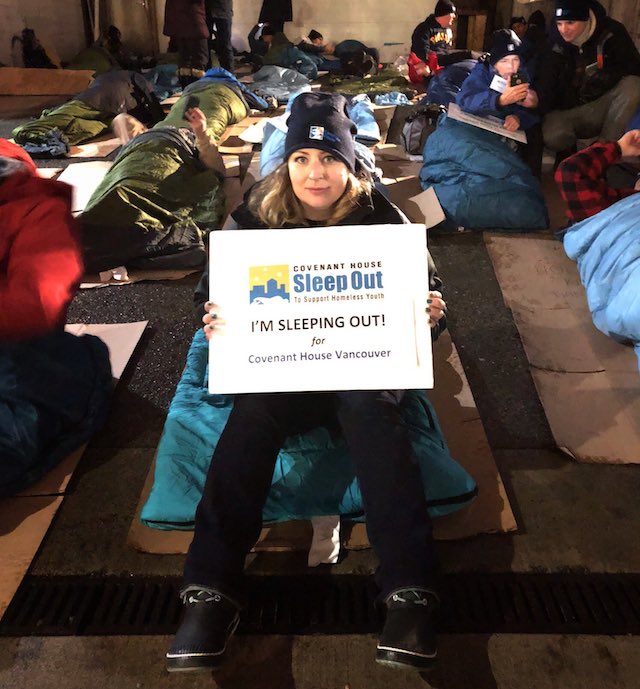 I've spent some of my most miserable nights at Covenant House, so that youth don't have to. When you're trying to sleep on a piece of cardboard in a back alley Downtown while freezing rain pelts down on your cheeks, many thoughts go through your head. I thought about Covenant House's crisis program, community support services, and how they life up youth through their Right of Passage Program. I also thought about the hot coffee that they would be serving at 5:00am when us Sleep Out participants could pack up and go home after the campaign.
How fortunate we were to get up and go home, and how one night could make such a big difference (raising over $300,000 for the cause). I'll never forget one night we did the sleep out and a Covenant House youth felt bad for us, she brought her own blanket downstairs to give to us. That is compassion. It's contagious.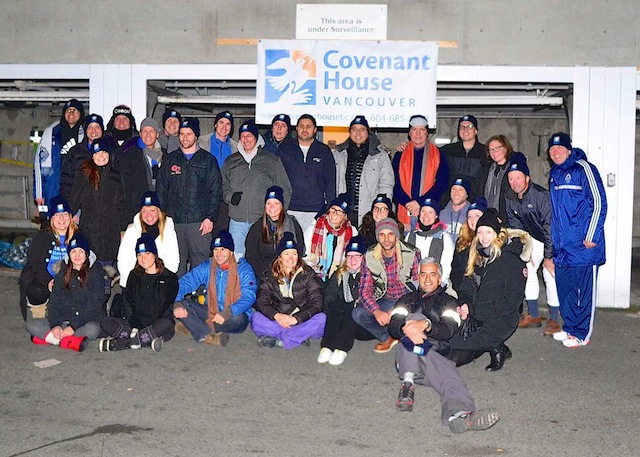 I'm thrilled to not only be a season ticket holder of the Whitecaps (since 2011) but to support Covenant House through the 50/50 at matches this season. See you at BC Place!