This weekend is Parks Canada's 11th annual Vive les Voyageurs Festival at Fort Langley. Discover French-Canadian culture — past and present — through interactive presentations and treats like maple taffy and poutine. Reflect on the role of French-Canadian trappers, interpreters and voyageurs played in shaping the history of Fort Langley and Canada.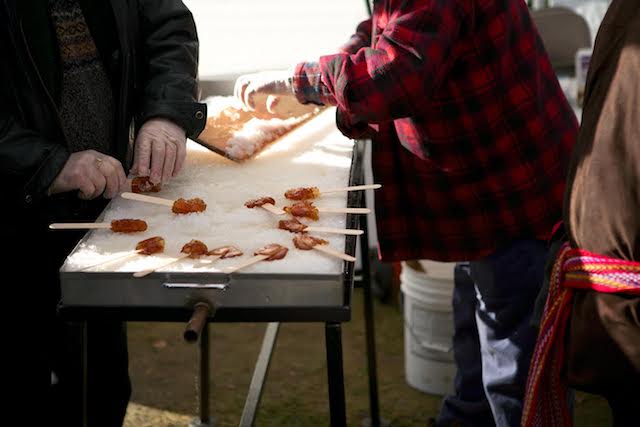 Vive les Voyageurs Festival at Fort Langley
Where: Fort Langley National Historic Site (23433 Mavis Ave, Fort Langley)
When: Saturday, January 25 & Sunday, January 26, 2020 10:00am to 5:00pm
Admission: Regular admission fees apply ($7.90 per adult and $6.60 per senior), while admission is free for youth (17 and under) and annual pass holders.
It's a great time to purchase the 2020 annual passes at the early bird price, just $16.05 per adult and $13.49 per senior.
All ages will have fun learning more about 'la culture canadienne-française' at Vive les Voyageurs. There's room to explore, fun hands-on activities and a dedicated children's play area and the festival is even better. New this year, kids won't want to miss the "Tiny Boat Races" activity at 11:30am, 1:30pm and 3:30pm. Families will also enjoy interactive presentations like the Métis jig workshop and French-Canadian music performances.
lelәm' at the fort café will offer poutine, tourtière, hot drinks and heritage-inspired treats, while outside visitors can watch hot maple syrup poured on snow transform into tasty taffy.
Fort Langley National Historic Site reflects the rich and varied heritage of our nation and provides an opportunity for Canadians to learn more about our diverse history. Many of the Hudson's Bay Company workers—including those who came to work at Fort Langley—were French-Canadian. Many developed legendary reputations for their work transporting furs by canoe across the wild reaches of the country. They helped negotiate trade with Indigenous communities, and navigated great rivers carrying bundles of fur over portages.
Follow Fort Langley National Historic Site on Twitter and Facebook for more information.