"Here in L.A. Lyft passengers are a bit more laid back and fun," my pal Tony told me by email this morning. I sent him some questions about Uber and Lyft since he drove for both in Los Angeles for 4-5 years, and they've both just arrived in Vancouver.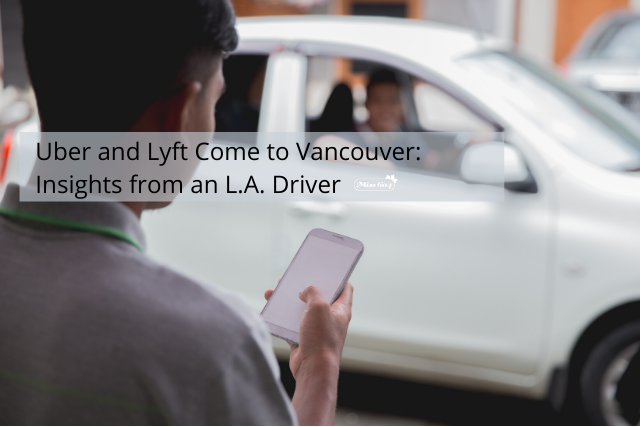 Uber and Lyft Come to Vancouver
I've had Uber on my phone since 2012. It made a very brief appearance in Vancouver and then it disappeared, only to return 8 years later after a very long campaign through red tape. Led by public cries for ride hailing, the BC Passenger Transportation Board's official approval came through on Thursday, January 23, 2020 announcing that Uber and Lyft could operate in BC's Lower Mainland and Whistler [Source: CTV] By 8:00am today (within 24 hours) Uber was online in Vancouver. Lyft was online at 11:00am.
Like most other Vancouverites who travel, I have used Lyft and Uber for years in other cities. My favourite ride ever was with an off-duty driver, and blogging mentor, Tony Pierce in Los Angeles in 2016.
Insights from an LA Driver
Rebecca: How long were you a driver?
Tony: "I drove for Uber for about 5 years and for Lyft for about 4 years. I drove about 5,000 trips. Most for Uber, but I probably had better experiences with Lyft."
Rebecca: What made you want to be a driver?
Tony: "I always wanted to be a cab driver. That is something my grandfather did in Washington D.C. in the '60s and '70s. I love people and weirdly I love driving, even in L.A. where traffic can sometimes be terrible."
Rebecca: Did you start with one then go with the other or drive for both on any given day?
Tony: "I originally signed up with Uber but learned that it is best to have both apps running if you are a driver because it cuts down on downtime in between rides. Here in L.A. Uber was much more popular so for every 1 Lyft ride I would get 4 Uber rides."
Rebecca: What are some pros/cons for each service?
Tony: "Both companies are relatively the same. Because Uber is the big dog, if they change a policy or lower the rates (they hardly ever go up), Lyft will quickly follow. Recently though because of a California law that came into effect a few weeks ago both companies have changed a lot of things that benefit drivers. These features will probably not be implemented in Canada any time soon, but they include allowing drivers to see what the trip will entail *prior* to accepting the ride. It is revolutionary and just might get me out of retirement."
Rebecca: What are some of your best/worst experiences?
Tony: "I've had some great experiences driving for both Uber and Lyft. It's all about who you pick up. I drove an NFL linebacker from one part of town to the other and we talked about how the league drug tests, who the biggest trash talking QB is, and how dumb some of the young players are. I took Bree Olson, a pretty famous porn star to a Halloween street party and we talked about how she loves Halloween because everyone is dressed sluttier than her. And I've had just some really sweet conversations with people and I've learned about L.A. via driving through every nook and cranny of this huge city."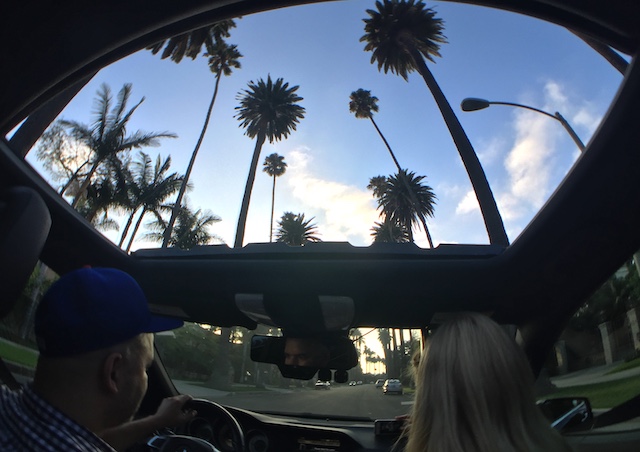 Rebecca: Should we think of them as pretty much the same company (have both apps, indiscriminately pick one or the other for a ride)?
Tony: "In a certain way, yes. As a business they work essentially the same way. But Uber's corporate history is dark, weird, and filled with extremely poor decisions. It's actually incredible that a company with soooo much bad press has been able to maintain its marketshare despite losing so much money and never turning a profit. Any other company who has had a scandal-ridden founder, numerous lawsuits, and such reckless disregard to the face of its brand (the drivers) would normally lose its place on top of the mountain, but Uber's popularity among passengers has miraculously never waned. This might because Uber has a nasty habit of cutting fares regularly at the detriment of itself and its drivers. But customers love a great deal."
Rebecca: People have been crying out for ride hailing due to the lack of service and availability of cabs here in Vancouver. Did you notice the same kind of collective 'sigh of relief' when ride hailing came to L.A.? Do people still take cabs there?
Tony: "Yes people in L.A. and around the States immediately jumped at the opportunity to take rideshare over cabs. Cabs were often dirty, drivers were rude, the meters couldn't be trusted, and drivers (especially in NYC, but also in L.A. were known to discriminate against black people). Rideshare allowed for average people to use their own personal cars, which often were cleaner and nicer. You'd get a receipt with a little map that showed you where you were picked up and dropped off. Through the app you'd know exactly when the car would arrive. And you could give a bad rating to a bad driver which often eliminated terrible drivers quickly. Old people take cabs here. That's about it. People who don't trust smart phones. Also people with too much money. Cabs are about 2x the price of rideshare here."
Rebecca: To get where I need to go in the city I'm a walker first, then bus taker, then I'll look for a cab and I think then I'll open up the Lyft app in the future. Is there anything you'd recommend or say to make me open the ride hailing app first and foremost for my city travel needs?
Tony: "There is a concept called The Last Mile that basically concedes that a subway stop or a bus stop probably won't be right in front of your house. Likewise it probably won't be in front of the restaurant that you are going to. The idea is take rideshare to and from the public transportation spot, which is often about a mile away. (Sorry we still use miles). I would take this concept up a notch in these circumstances. Sometimes when a concert or a sporting event lets out it's gridlock around that venue. I like to walk about a mile away from that madness and then summon my rideshare vehicle. It makes it much easier for both you and your driver. I also like to go a block a way from either busy streets or congested hotel driveways and summon my car on a quiet side street. This leads to less confusion. As great as this new technology is, traffic can stymie everything."
I have more from Tony coming soon, he'll share some additional tips on how to be a good passenger – stay tuned!
Tony Pierce is a writer, editor, and sometimes rideshare driver who lives in Hollywood, California. He is the Editor-at-large of Los Angeleno. He likes tacos, baseball, and Canadians! He has a near-perfect rating as a driver on Uber and Lyft. If you want to drive for Uber and you liked my tips, click this link to become a driver.