The 54th annual Variety BC Show of Hearts Telethon will be broadcast live on Global BC from the Hard Rock Casino Vancouver on Sunday, February 9, 2020. The iconic event will air from 9:30am to 5:30pm and can also be streamed on Global's website.

Show of Hearts Telethon 2020
The eight-hour telecast will introduce viewers to Variety kids from across the province including 12-year-old Brody who has Marfan syndrome, cerebral palsy and epilepsy and who received an adaptive stroller, an electric wheelchair and a van conversion from Variety.
Viewers will also have the opportunity to catch up with some of the kids they met during Variety Week including 9-year-old Cole who was partially paralyzed after a cancerous tumor crushed his spine. Variety has funded his rehabilitation by providing physiotherapy sessions to help him retrain his muscles and nervous system so that he can regain feeling in his legs. Now as Cole tries to take his first unassisted steps, it is with the help of a pair of custom leg braces also provided by Variety.  
Returning hosts include Global BC's Chris Gailus & Sophie Lui, Global Okanagan's Doris Bregolisse, 980 CKNW's Jody Vance and CFOX's Karen Khunkhun. They'll be joined by actor Paul Greene, inspirational speaker Cara E. Yar Khan and long-time Show of Hearts favourite, Alvin Law.
This year's entertainment line-up will feature performances by Juno Award-winning indie band Said The Whale, singer-songwriter Shawn Austin, Canadian blues rockers Wide Mouth Mason, country artist Todd Richard and special guests, multi-platinum selling group The Tenors.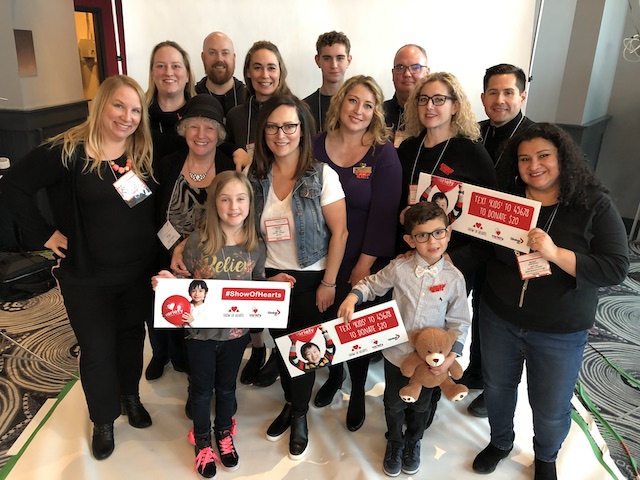 Donations to the Variety Show of Hearts Telethon can be made by calling toll-free at 310-KIDS and also online at variety.bc.ca or by texting "KIDS" to 45678 to make an automatic $20 contribution.
Miss604 is the proud sponsor of the #ShowOfHearts Social Lounge and Rebecca Bollwitt is Variety's Secretary of the Board of Directors. You can donate to Miss604's personal #ShowOfHearts campaign online here »