Humboldt Broncos bus-crash survivor Ryan Straschnitzki and Olympian Hayley Wickenheiser are hitting the ice together to play a celebrity sledge hockey game in Surrey on Saturday, February 1, 2020. The game will have hockey players and legends face off against local celebrities to promote Surrey's new Para Ice Hockey and adapted sports programs.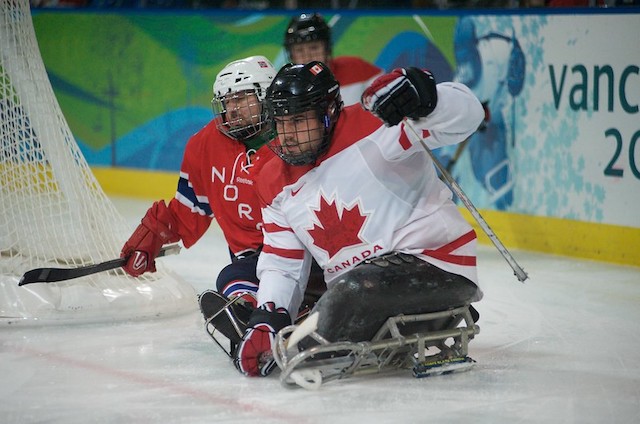 Surrey Hosts Celebrity Sledge Hockey Game
Where: North Surrey Sport & Ice Complex (10950 126A St, Surrey) near Scott Road SkyTrain
When: Saturday, February 1, 2020 from 12:30 to 1:30pm
Tickets: By donation, register here »
This event is part of the 2nd annual Canadian Tire Wickenheiser World Female Hockey Festival (aka WickFest), on now until February 2nd. My pal Tom Zillich at the Surrey Now Leader has all the details in this article.
Adapted Sports in Surrey
North Surrey's new three-sheet arena was designed and built with inclusivity and accessibility in mind. Features include level access to the ice from dry surfaces, and players boxes and penalty boxes made of clear lexan, instead of regular puck board, allowing para ice hockey players a clear view of the ice from their sledges. Also, removable benches in the players boxes allow para players to remain in their sledges when off the ice.
The City of Surrey's Para Ice Hockey for Beginners program runs seasonally at Surrey Sport & Leisure Complex, for those aged six and up. Participants learn how to maneuver a sled, shoot the puck and play fun games with an instructor.