The elevator bell chimed and we walked out into the lobby of the Radisson RED in Downtown Portland toward one of John's favourite taprooms. It was mid-December and all of the theatre marquees on Broadway were glittering as show guests gathered by the curb to await their rides. Just past the family-owned haberdashery, the Great Figgy Pudding Carolling Competition had just wrapped up under the 80ft tall living Christmas Tree at Pioneer Courthouse Square. What a fun time it was to be in the city!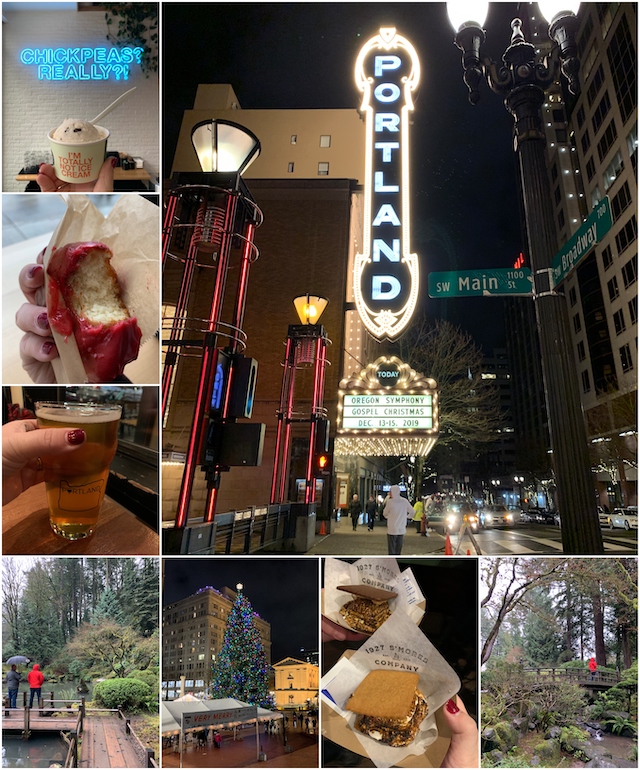 Staying in Downtown Portland at The RED Radisson
I was invited to check out the Radisson RED, "an upscale, select service hotel brand that presents a playful twist on the conventional" and throughout the weekend it made for a great home base for our PDX adventures.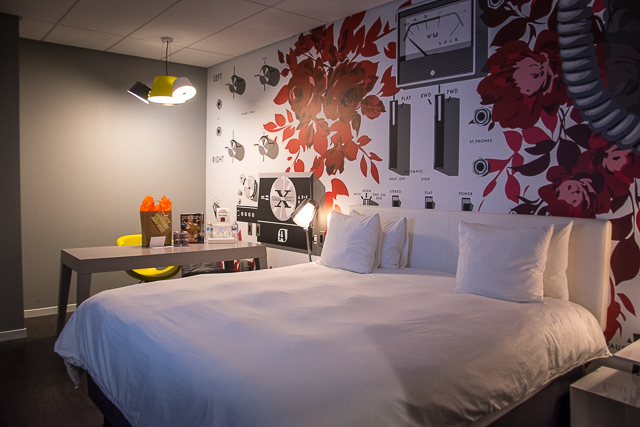 Things I Loved
John and I were there with John and his girlfriend Fiona — John was checking out the tech elements of the hotel such as check-in on the app [Google |Apple] keyless elevator and room door entry with the app, ping the front desk, make dinner reservations and more. I'm in hotels a lot for my travel writing assignments (about 20 different properties per year) and as frequent traveler who works on the road, I really appreciated some of the RED's touches such as: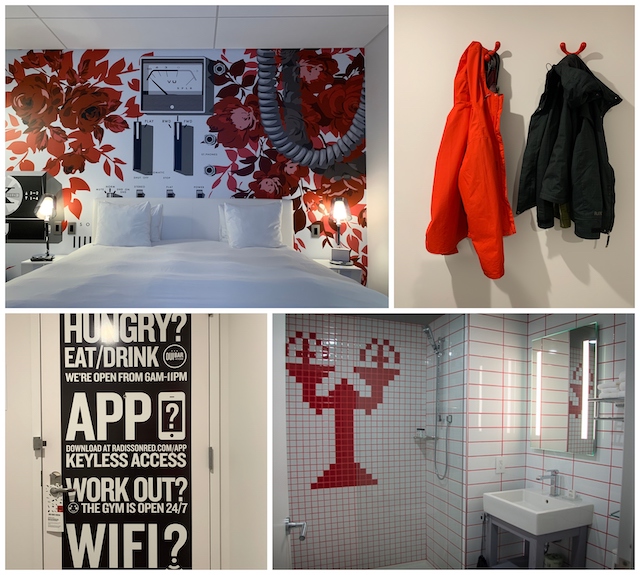 Coat hooks. Totally underrated. Literally a place to hang your hat.
Easy WiFi connection with no limits for devices
Outlets available where you would want and expect them: On top of the nightstand and is easily accessible locations around the room for easy charging of devices.
Room decor. Funny enough, the bold graphic prints were all radio and audio related, like they knew John was coming.
Fiona told me that she loved that there was a fridge in the room but it wasn't front and centre, it was tucked in the closet but readily accessible.
There was a safe. Another small touch but I do like to leave my laptop and work gear in a hotel safe when I leave my room and personally I rarely see this outside of all-inclusive properties in tropical locations.
Friendly staff, super easy check-in. We pulled up in the designated spot in front of the lobby, I hopped out and within 5 minutes I was back in the car directing John to the parkade. The first impression (check-in) is always so important and can set the tone for your whole stay.
The bed. COM-FY! When you're spending most of your time outside of the hotel, exploring a city, you want somewhere comfortable to come back to at the end of the night.
Breakfast. Served until 10:00am in the lobby at OUIBar + KTCHN. I recommend the Biscuits and Gravy.

I wasn't a huge fan of the dinner meal we had (I think they could really excel by sticking to burgers – John LOVED his burger and fries) but the cocktails were great too. You can also order grab-and-go options from your RED app.

The location. Close to transit, right on Broadway, easy to walk anywhere – and walk we did!
Other bonus points are awarded for cleanliness and price point. You can book the RED Radisson on Downtown Portland from $118.15 USD/night (price as of January 2, 2020).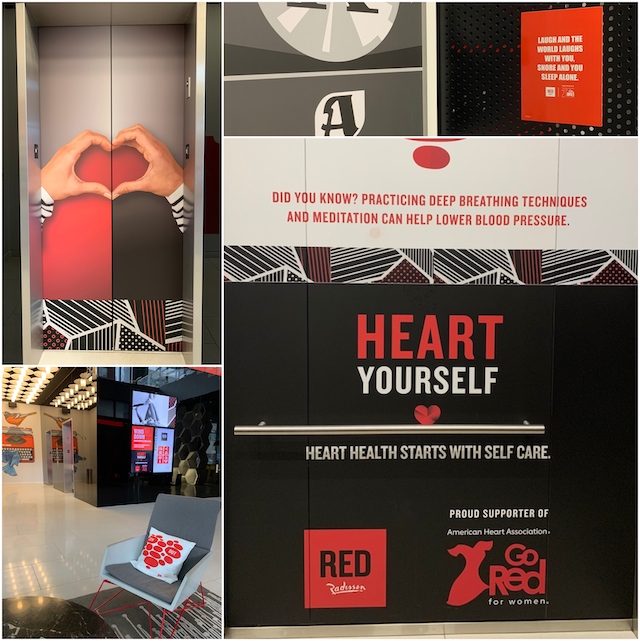 How the RED Helped My Heart
Radisson RED is a national cause supporter of the American Heart Association's Go Red for Women movement, which celebrates the energy, passion and power of women to band together to wipe out heart disease.
In their elevators there are reminders about heart health and promotions for this partnership/campaign. When I got back to Vancouver I went to the doctor for a checkup and was particularly concerned about my blood pressure. Everything turned out ok, but literally thanks to this Go RED messaging, I got a lot of peace of mind!
Getting There with the Honda Ridgeline
I get to experience the Honda Ridgeline perhaps once a year thanks to my partnership with Honda Canada so when I have a pick-up I take advantage of its features.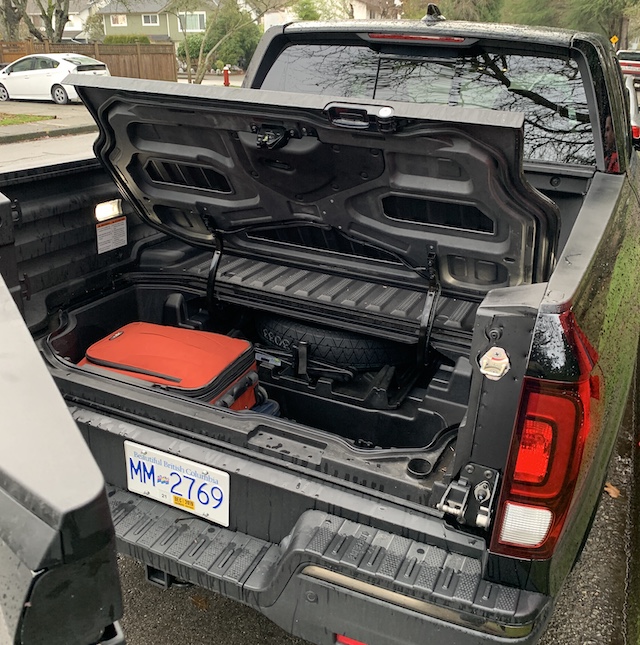 I did several IKEA runs and even made my first trip to the South Vancouver Transfer Station and recycling centre to clean up before the holidays.
After the errands, we packed for the trip and with 4 adults in the cab, we each put our 21 inch+ carry-on suitcases in the truck-bed trunk. The two-way tailgate made it easy to open and access this handy compartment and it left us with a roomy cab (for all our souvenir and Christmas gift purchases). It was big enough for all of us to cruise comfortably on the 5 hour road trip, and compact enough to manoeuvre underground parking spots with ease.