There is a flourishingly dreamy 70 acre oceanfront estate on Vancouver Island that has been home to British aristocracy, a retreat for royalty, and as I saw last summer, even a refuge for fairies.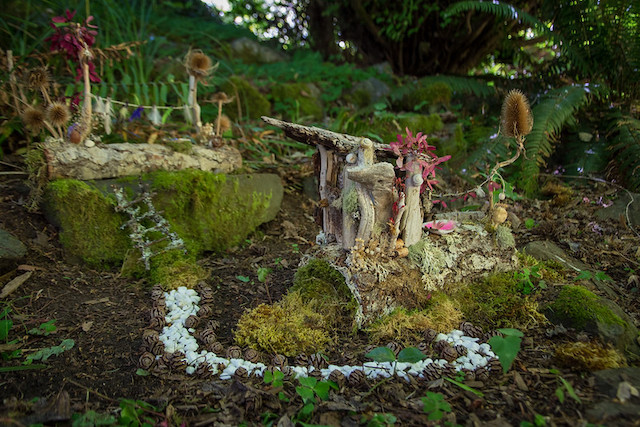 Each June, Fairy Houses magically appear at Milner Gardens in Qualicum Beach, which is owned and operated by Vancouver Island University.
Milner Gardens History
Horatio "Ray" Milner was born in Sackville, New Brunswick in 1889. He attended Kings College, Nova Scotia and was graduated at age 20. He was called to the bar in 1911 after receiving a law degree from Dalhousie University. After serving in WWI, he was made Kings Counsel… As one of his many achievements, Mr. Milner was a founding director of Canadian Utilities and was instrumental in the formation and growth of the company. He was made a companion of the Order of Canada in December, 1969. Three universities awarded him honorary doctorates.

Milner History »
Ray purchased the estate in 1937 as a getaway from his busy business life in Alberta. His second wife, Veronica, did extensive work on the 10 acre garden portion of the property.
Mrs. Veronica Milner was a fascinating person. Born of the British aristocracy, she was the widow of Desmond Fitzgerald, 28th Knight of Glin, County Limerick, Ireland. Her mother was a cousin of British Prime Minister Winston Churchill. Both Churchill and Mrs. Milner were descended from the First Duke of Marlborough, and thus were related to Diana, Princess of Wales. Indeed, the Prince and Princess of Wales visited the garden in 1986. Queen Elizabeth and Prince Philip stayed at the estate for three days in October, 1987.

Milner History »
Veronica Milner was also member of the Founding Committee of the VanDusen Gardens in Vancouver, among many other organizations that study and conserve plants and shrubs. VIU acquired the garden in 1996 and maintain it in perpetuity for education and the community's benefit in Ray Milner's memory.
Visiting the Fairy Houses at Milner Gardens
From the entrance, you can take a shuttle or go on foot through the woods, past the Pool House (which is now the gift shop) and old Tennis Courts to the gardens and then to the main house whose lawn rolls down to an ocean overlook.
Milner Gardens is such an enchanting place for its history – you really feel like you're on a 1930s oceanside estate – but then there's the wonder of the towering evergreens, the lush gardens, and the buzz of bees working their way to blossoms of the brightest hues. On top of all of this, add in some fairy magic!
The Fairy Houses is a special event that will return June 25-28, 2020. Meander the sun-dappled meadows of Milner Gardens on your self-guided search for Fairy Houses which have magically appeared, in honour of International Fairy Day and Veronica Milner's belief in fairies.
Enjoy Fairy Tea in the Queen's Room and on the Milner House patio. No reservations are required for Fairy Tea and tea times will be posted at a later date. Summer season admission is $12 Adult, $7 Youth, with free admission for children 12 yrs and under accompanied by an adult, current Milner Gardens Members/VIU Student cardholders.
Other events throughout the year include tea services, the Rhododendron Bloom, seasonal plant sales, Easter Bunny Hop, and Milner Christmas Magic. I highly recommend stopping in at Milner Gardens during your next visit to Parksville/Qualicum Beach.
Read about my first visit to the gardens in 2009 here »