Dan's Legacy invites youth to a celebration of gender diversity with art, fashion, and performances at Trans Extravaganza.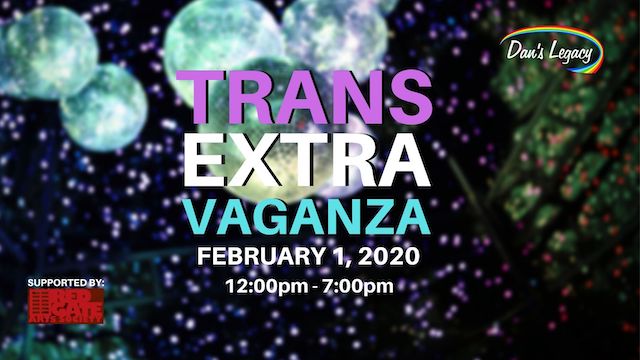 Dan's Legacy Presents Trans Extravaganza
Where: Red Gate Arts Society (1965 Main St, Vancouver)
When: February 1, 2020 from 12:00pm to 7:00pm
Admission: Free (donations accepted). For ages 13-25. Scent reduced, universal washroom, ASL interpretation, accessible, and allies welcome!
This event is a celebration of the Q2STNBI community, with opportunities for queer, two-spirit, trans, non-binary and inter-sex youth to learn more about the resources available to them, discover identity pride and increase their confidence by developing leadership and organization skills.
"The Trans Extravaganza is an event designed and hosted by the youth taking part in our Queer Femme art therapy program," says Barbara Coates, Dan's Legacy's executive director. "The youth felt the group was missing diversity and not meeting the needs of the community in the way we had intended. We hope this event will help queer youth discover identity pride, increase their confidence, and become more aware of all the resources available to them in the community."
Some of the challenges queer and trans youth face are: acceptance from family and community; knowledge of and access to appropriate medical and mental health services, clothing that is reflective of their identity; instruments that help with body dysphoria, and gender-confirming
procedures not covered by provincial healthcare.
The event will have speaker panels, workshops on Two-Spirit medicines and ceremonies, mindfulness and medical information, and a quiet space for people to rest and create art. Entrance is free but donations to Dan's Legacy are gratefully accepted. Funds raised help Dan's Legacy provide trauma and culturally informed counselling to at-risk youth in Metro Vancouver.
If you cannot attend the event but want to support Dan's Legacy, text DANS to 45678 to make an automatic $10 donation.
About Dan's Legacy
Dan's Legacy provides therapeutic counselling and life-skills intervention programs to youth affected by trauma-based mental health and addictions issues. In the past four years Dan's Legacy has helped over 300 youth meet their educational, housing and life-goals. Follow Dan's Legacy on Facebook, Twitter, and Instagram to learn more about their work in our community.
Miss604 is a proud social media sponsor of Trans Extravaganza and the Chef's Charity Dinner for Dan's Legacy BC