A text message came through on my sister's car as we hit the highway. The robotic voice began reading it through the sound system: "h-t-t-p–" She flipped a button on her steering wheel and cut off the rest of the dictation. "She made us a Christmas playlist," she announced to her passengers that included her BFF and me. We replied with oohs and ahhs at the thoughtful gesture from my niece. The playlist became the soundtrack to our festive Fraser Valley staycation at Rowena's Inn, and it was perfect.
Festive Fraser Valley Staycation at Rowena's Inn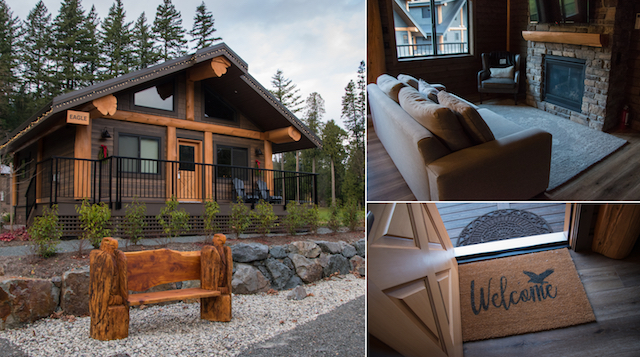 I often get asked, "where's a nice place to stay that's not too far away but it still feels like you're away?" and my reply 99.9% of the time is Rowena's Inn on the River. Secluded on a 160-acre waterfront estate, this Harrison Mills accommodation is a grand, English-style manor that was converted into a boutique bed and breakfast.
You can book a room at the manor, or stay in a one-room cabin with soaker tub and wood fireplace. New this season is a lineup of 1, 2, and 3 bedroom luxury cottages, one of which was our home for our girls getaway.
Surrounded by mountains, looking out at the Harrison River, we watched eagles soar overhead all from the couch in the aptly-named Eagle cottage.
The fireplace was glowing, the wine was flowing, the cupcakes we picked up at Tracycakes in Abbotsford were being devoured, and our custom Christmas playlist was pumpin' out yuletide cheer.
We would have never left the hearth all weekend but we also wanted to check out Lights by the Lake in Harrison Hot Springs.
The next day we bundled up and drove into the village about 20 minutes away. We came across a Christmas Craft Fair, stopped into Rocky Mountain Chocolates (for some Sasquatch-themed stocking stuffers), and booked ourselves on an eco-tour along the river to do some eagle watching.
We docked at dusk, just in time for an aperitif and some dinner at Morgan's Bistro. Lights twinkled on the patio, which is the place to be in the summer months, and inside it was warm and inviting — a great place to unwind and savour some local flavours by candlelight.
After dinner we walked the length of Lights by the Lake, past Sasquatch and Santa themed displays, cedar wreaths, boughs of holly, and plenty of photo ops. The moon rose behind Mount Agassiz, illuminating our stroll along the lagoon.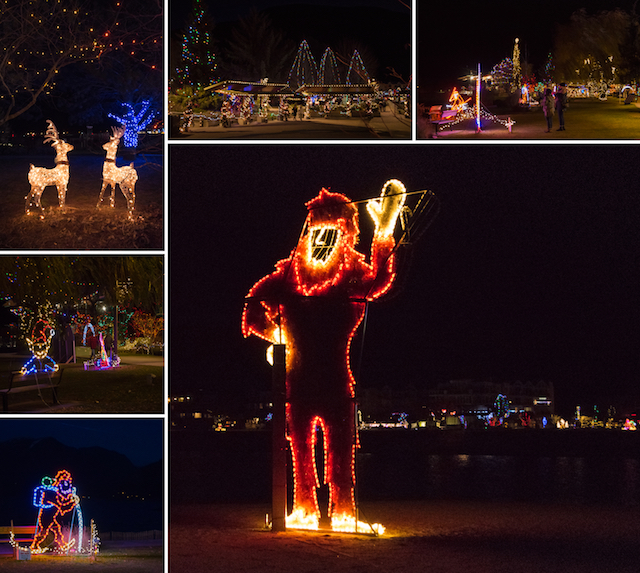 We drove back to Rowena's under a sky full of sparkling stars and returned to our fireplace, wine, and cupcakes. This was definitely a holiday routine I could get used to.
In the morning we walked across the estate to the Clubhouse Restaurant for Sunday Brunch. The air was crisp, it was quiet – save for the calls from eagles in the trees above – and it smelled like frost and cedar. I sipped my coffee over brunch and peered out at the pin-straight evergreens, which form a natural fence (several hundred feet high) between Sandpiper Golf Course and the estate.
You can plan your own trip to Rowena's by checking out their latest packages and deals for your winter getaway, holiday party, or Christmas dinner. The new cottages are fantastic for groups, but I'd still take a cabin with John for a date night or two.
Just being at Rowena's is relaxing and calm. How can you not be with so much nature hugging you at every angle, while the accommodations leave you wanting for nothing except a later check-out time (and perhaps a bluetooth speaker so you can amp-up your niece's Christmas mix).