There's history and heritage combined with whimsical garden displays, the rush of the brook, the glow of the gazebo, and of course the carousel. There are plenty of photo ops at Heritage Christmas at Burnaby Village Museum, so it was tough to just pick my top 5!
Photo Ops at Heritage Christmas at Burnaby Village Museum
As soon as you enter the museum, stop at the orchard with a view of the Jesse Love Farmhouse. There are deer lit up in lights and an up-cycled version of Santa's sleigh with reindeer.
2. Cross Deer Lake Brook, the bridge itself is a great spot for a photo among the trees.
3. Hill Street is where you'll find refreshments, crafts, carolers and more. You'll also recognize this iconic thoroughfare from some of your favourite locally-filmed Christmas movies.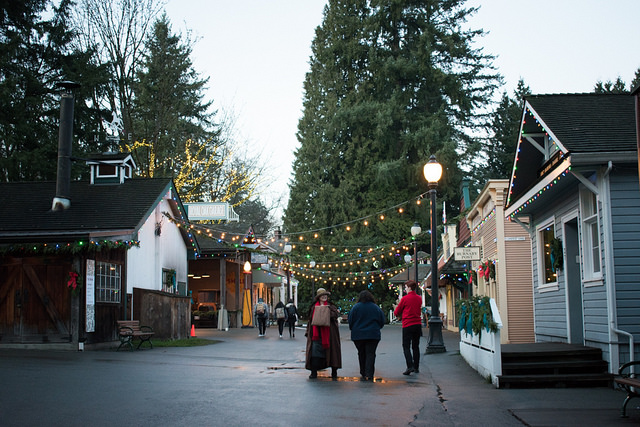 4. The Vorce Tram Station and Interurban Tram Barn are really cool pieces of local history, and they look lovely all decorated for the holidays.
5. Outside the Log Cabin are some Christmas bears, decked out in sweaters and growing a lush green coat – part sculpture, part garden!
Heritage Christmas at Burnaby Village Museum
Admission: FREE! Carousel rides are $2.65
Address: 6501 Deer Lake Ave, Burnaby
When: November 23, 2019 to January 3, 2020

November 23 to December 13, 2019 Monday to Friday, 1:00pm to 5:30pm; Saturday & Sunday, 1:00pm to 9:00pm.
December 2, 1:00pm to 4:30pm. December 14, 2019 to January 3, 2020 Daily 1:00pm to 9:00pm, closed December 24 & 25.
Share Your Pics!
Until December 23rd, with every picture taken at Heritage Christmas posted with the Hashtag #ConcordSleigh, our friends at Concord Pacific will donate $5 to the Burnaby Christmas Bureau and participants will have a chance to enter the draw to win a $500 Metrotown gift card.
Wander the Village and take in all the seasonal entertainment, demonstrations and activities. Plan your visit to Burnaby Village Museum and follow on Facebook and Twitter for information about this event and more.
Miss604 is a proud media sponsor of Heritage Christmas 2019-2020