Yule Duel is a carolling competition with professional, school, and community choirs lighting up a neighbourhood with holiday tunes all while benefitting an amazing cause – it's one of my favourite events of the season! For its 5th annual event, Yule Duel is moving to šxʷƛ̓ənəq Xwtl'e7énḵ Square (formerly called the Art Gallery's North Plaza) on December 5th.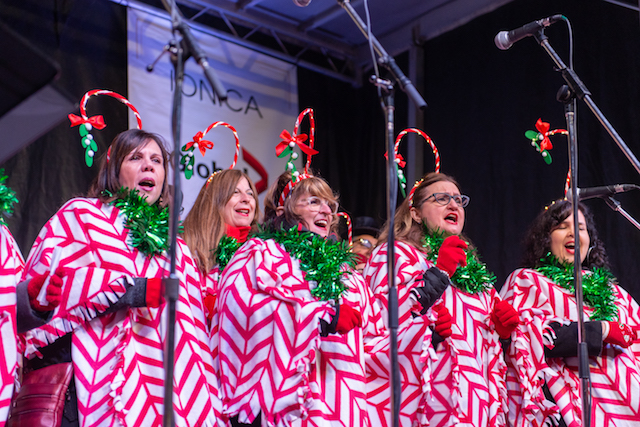 Yule Duel 2019
When: Thursday, December 5, 2019 5:30pm to 9:00pm
Where: šxʷƛ̓ənəq Xwtl'e7énḵ Square (formerly the Art Gallery's North Plaza)
Admission: FREE! Voting tokens are a $5 donation
This family-friendly holiday event attracts thousands of people and features some of Vancouver's best voices. These musical heroes of the holiday season will lend their vocal talents to raise funds for The Bloom Group's May's Place, the Downtown Eastside hospice that has provided compassionate end-of-life care to vulnerable and marginalized people since 1990.
How it Works
For each donation of $5, spectators can buy a voting button which will give them the ability to vote for a choir to make it to the finals.
In this fun-filled caroling competition, audience participation is key, as onlookers get the chance to vote for their favourite choirs, helping carolers make it to the dueling sing-offs, where a panel of celebrity judges will decide the winner.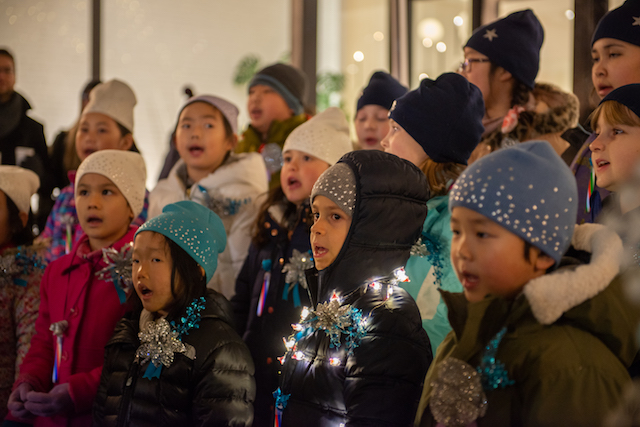 Fan favourites and former winners Notre Dame Platinum Girls and Iron Men Children's Choir and Mom Choir are back to defend their titles against competitors Los Parranderos, Collage, Mulgrave Chamber Choir and St. Georges School Junior Choir. The choirs will perform a variety of musical styles, including acapella, jazz, pop, rock and songs in different languages, showcasing the holiday traditions of many cultures.
Audiences will enjoy the opening performance from three-time Grammy award winner and R&B Hall Of Fame inductee, Dutch Robinson at 5:30pm and the return of The Marcus Mosley Chorale and The Carnival Band. Follow #YuleDuel2019 on Facebook, Instagram and Twitter for more info.
About the Cause: May's Place
May's Place is operated by The Bloom Group Community Services Society (formerly St. James Community Service Society), which has provided some of the most progressive social services in Vancouver's Downtown Eastside for over 50 years. A registered charity, The Bloom Group operates hospices, emergency shelters for women and women-led families, supportive mental health facilities, affordable housing and a financial management program for vulnerable seniors.
Miss604 is a proud sponsor of this Yule Duel for the 4th year and Rebecca Bollwitt also returns as a judge.