After a sold-out inaugural year, the Vancouver Horror Show Film Festival ("VHS") is returning for the sequel. All programs will be followed by a filmmaker Q&A and the final block of shorts (Shorts Program 3) will be followed by the #VHS2019 Award Ceremony.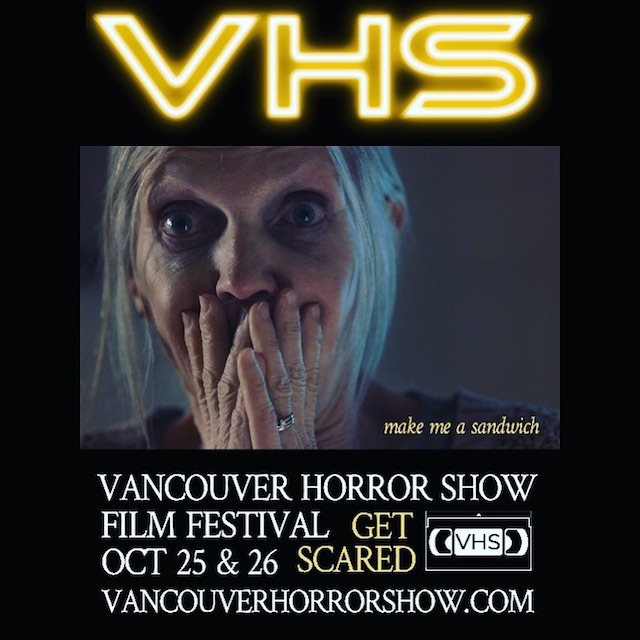 Horror Show Film Festival
When: Friday, October 25 to Saturday, October 26, 2019
Where: York Theatre, 639 Commercial Dr
Tickets: Available Online
Submissions for The Vancouver Horror Show Film Festival in 2019 have more than doubled from that of the festivals launch in 2018!
The VHS is proud to announce the Official Selections for the sequel to the annual Film Festival. The program features films from all over the world and boasts 50% Canadian content.
32 short films from 9 different countries have been selected. These films explore the breadth, depth, and diversity of style that the horror genre has to offer. Technology focused films like Michael Dupret's #NO_FILTER shows us how scary a night in, alone on Instagram can be, while Sophie B Jacques' Hearth might make you think twice about listing your condo on Airbnb. All three short film programs highlight strong, self-possessed female leads in films like Catherine Fordham's Kaya, Phil Davis' Let's Go Down and Ilja Rautsi's Helsinki Mansplaining Massacre.
Vancouver producer, Victoria Burkhart, brings the hilarious and dark O.I. (directed by South African born N'Cee van Heerdon – who currently resides in Vancouver) about a man who posses the most dangerous thing in the world: an original thought. Local actors Ben Cotton and Jennifer Nicole Stang (VHS alum from last years hit The Whistler) shine in this hilarious and thought-provoking masterpiece.
As a Canadian and BC-based festival, the VHS is showcasing some truly amazing home grown talent; Vancouver-based Jake Pascoe tells a haunting tale of post-apocalyptic survival in Feast and Montreal's Gio Olmos presents a gritty allegory for poverty and class division in Dulce Hogar, where the residents of a poor Latin American town must pay their rent with something more valuable than money. Also from Vancouver is Dance with a Demon from Mitch Bax and Fiona Vroom; a cinematic and visceral story of a mother's struggle with depression, and the battle that rages on when the demons return.
The full lineup is available online including short program details for both days. For more information follow the Vancouver Horror Show on Instagram and Facebook.