"Breakfast tomorrow?" Laura and I both texted each other when we found out the news. One favourite local breakfast cafe is closing its doors this weekend after 17 years. Within 12 hours of the text, we were sitting in the steamy window of The Spot Cafe on Denman, watching the rain with a cup of coffee in hand.
The Spot Cafe on Denman is Closing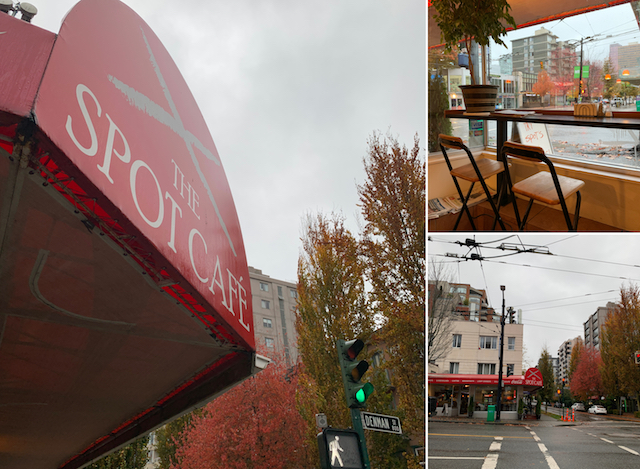 The Spot Cafe: 805 Denman St at Robson in Vancouver
I received an email to my website contact form a few minutes before I alerted Laura to the news. A reader kindly informed me that the much-loved West End cafe was closing and they hoped I could spread the word.
To the passer-by, the only indication of this weekend's closure is a "For Lease" sign on the corner window. That is, until you step inside.
At a small table there is a handwritten sign about the closure, and a poster board where patrons and neighbours can leave well-wishes for the owners. It's a family-run business, a literal mom and pop operation, that will be sorely missed in this neighbourhood.
The sign above the poster says: "Feel free to say thanks for the last 17 years. The Spot Cafe retires end of the month." I asked at the counter when I ordered my two eggs any style breakfast if it was closing at the end of October or this weekend like my email stated, and discovered it's this weekend.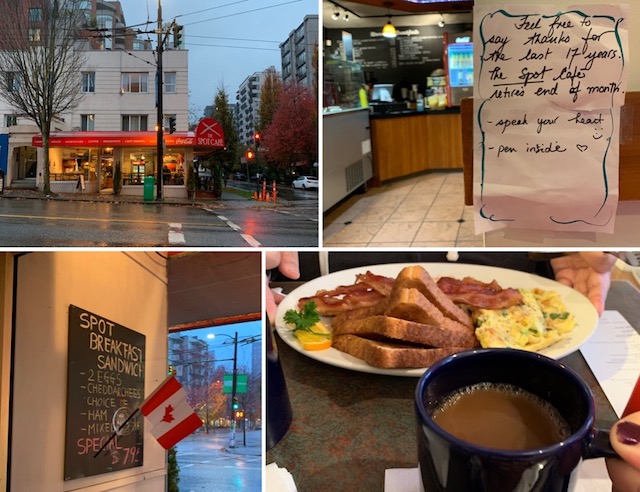 I have many fond memories of breakfasts at The Spot, with family and friends, like this morning when Laura and I chatted about life and work, while local radio played and the #5 bus splashed around the corner every few minutes.
So, my dear readers, I encourage you to visit this little cafe on the corner of Robson and Denman (the "best corner in the city!" according to one note on the poster board) and have a home-style breakfast or lunch before it is gone for good.