On November 9th, 2019, the largest addiction treatment organization in Canada, Together We Can ("TWC"), will host the Starry Night Gala at the Rocky Mountaineer Station.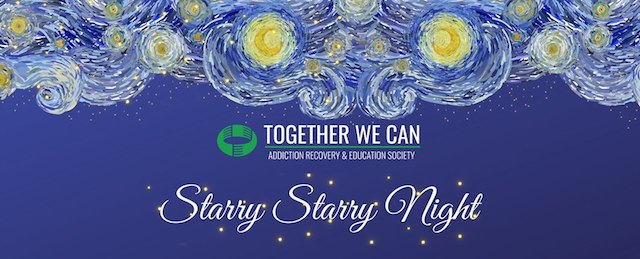 Starry Night Gala for Together We Can
Where: Rocky Mountaineer Station (1755 Cottrell Street, Vancouver)
When: Saturday, November 9, 2019 from 6:00pm to 9:00pm
Tickets: Available online now for $225
Based in Vancouver with facilities across British Columbia, TWC specializes in treating all forms of addiction and providing their clients with a viable path towards recovery. With over 300 beds and thousands of clients coming through their doors each year, they are at the forefront of the battle against addiction.
The 2019 fundraising gala will be in support of their Fallen Sons Memorial Fund, a scholarship that provides access to rehabilitation services for individuals who for one reason or another are unable to get the help they need. In British Columbia, addiction is the only potentially fatal disease that treatment isn't guaranteed for by our healthcare system. The rehabilitation industry is largely dominated by for-profit organizations, but TWC has made its mark as the largest of the bunch despite being a non-profit, CRA-recognized charity. The scholarship program that the event will fundraise for ensures over 100 people get the treatment they so desperately need each year.
With the overdose crisis that has seen over 11,500 Canadians lose their lives since 2016, it is more important now than ever before to provide treatment to those who need it.
Join TWC as they turn the tide in the battle against addiction. Get your tickets for the Starry Night Gala today and follow along on Facebook and Twitter for more info.
Miss604 is a proud media sponsor of the TWC Starry Night Gala