The Birthplace of BC has a lot of stories to tell, and quite the sordid history to share. What better time than Halloween to hear tales of love, mysterious burials, and hair-raising amputations during Fort Langley National Historic Site's annual Grave Tales Historic Walking Tours. Enjoy this event and some more family friendly activities this Halloween in Fort Langley.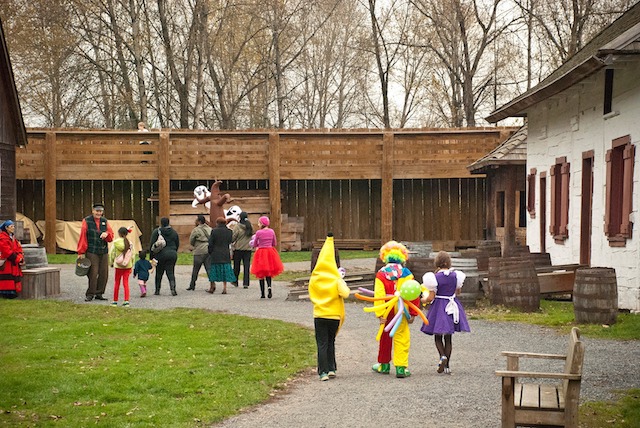 Halloween in Fort Langley
Grave Tales
When: On now until November 3, 2019
Where: Fort Langley National Historic Site (23433 Mavis Ave, Langley City)
Tickets: Grave Tales tickets available in advance online
Grave Tales is a historic walking tour through the village of Fort Langley, ending inside the historic Big House inside the fort. Heritage Interpreters tell tales of misfortune in Fort Langley's cemeteries, streets, and inside the Hudson's Bay Company fort. For youth who would like a taste of Grave Tales, a youth edition (available at 6:00pm) is available for the family audience.
Halloween at the Fort
When: Saturday, October 27, 2019 from 10:00am to 5:00pm
Where: Fort Langley National Historic Site (23433 Mavis Ave, Langley City)
Admission: This event is geared toward young families and is free with your annual pass and for youth age 17 and younger. Adults are $7.80 and seniors are $6.55.
Try pumpkin bowling, trick-or-treat at some of our historic buildings and enjoy the scenic setting with your little ones in their Halloween costumes.
Daily Fall Activities
At the Fort, visitors can expect a guided tour at 11:00am and 3:00pm daily on weekdays. There are White Glove tours with curators every Monday and Friday at 2:30pm. On weekends, there's the "Fort Langley 101" introductory tour. A coopering demonstration will take place at 11:00am. Feature presentations highlighting the stories of Fort Langley's original inhabitants (the boat builders, fur traders, farmers or families). At 3:00pm, watch the sparks fly in the Fire Program. Whether there's a show on blacksmithing or baking, interpreters will definitely spark your interest with this demonstration. Weekend days close with the lowering of the flag at 4:30pm.
About Fort Langley
Built in 1827, Fort Langley was a Hudson's Bay Company fur trading post. Located on the banks of the Fraser River, it was once part of a trade route for the British Empire at the centre of a large population of Indigenous people.
Fort Langley served as part of a network of fur trade forts operating in the New Caledonia and Columbia Districts (now British Columbia and northern Washington). The fort maintained a good and peaceful trade in furs, salmon, and even cranberries with the local native inhabitants.