The first annual Girls in Gaming event is happening October 26-27, 2019 in Burnaby. The two-day event will cover several significant aspects of the Esports ecosystem including: professional and collegiate competition, game design, content creation, marketing and player development.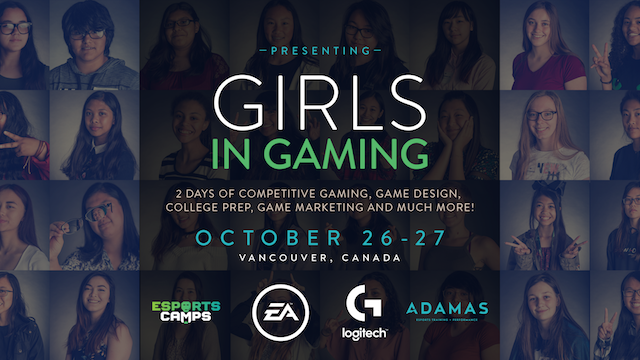 Girls in Gaming Esports Camps
When:

Saturday October 26, 2019 9:00am to 4:00pm

Sunday, October 27, 2019 9:00am to 2:00pm

Where:

Saturday Location – Fortius Sport & Health, 3713 Kensington Avenue
Sunday Location – Electronic Arts Sports Campus, 4330 Sanderson Way

Tickets: Register online
Electronic Arts and Logitech have partnered with Adamas Esports and Esports Camps to mentor 50 high school students who are interested in a career in this industry. The goal is to introduce aspiring girls to the many facets of the growing Esports and gaming industries and connect them with international experts.
Collegiate Esports Panelists
Devon Zhao (Adamas Esports)
Madeleine Gray (Vancouver Titans)
Amanda Wong (Gaming Stadium)
Derian Chow (SFU Esports Association)
Arnaud Dione (UBC Esports Association)
Highlights include an overview of the industry, full tour of the Electronic Arts Campus + EA hosted presentations, meet & greet plus Q&A with professional Esports players and Canadian Olympians, in-depth advice and guidelines on preparing to play collegiate Esports with Simon Fraser University and the University of British Columbia Esports Teams, lectures and discussion on building healthy gaming habits, time management, physical training, communication, teamwork and leadership development.
Register today and follow the event on Twitter, Instagram and Facebook.