When the state-of-the-art jumbotron at BC Place was installed during its renovations a few years ago, it was compared to "the size of a Yaletown apartment". That thing is HUGE. Now it's got a chance to shine in a new light when it shows more than in-game programming. On October 19th, join Kids Up Front Vancouver at BC Place for a fun family movie night.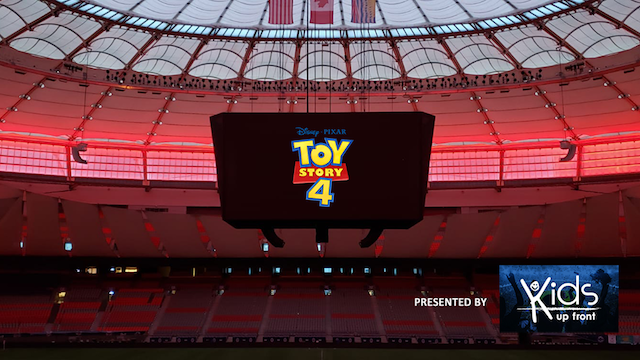 BC Place is Hosting a Movie Night
Where: BC Place Stadium in Vancouver
When: Saturday, October 19, 2019

5:00pm – 6:15pm: On Field Activities
6:30pm – 8:00pm: Toy Story 4 Viewing

Tickets: Available via Ticketmaster. $50 Family/Friend Pack (four tickets), or $15 for individual tickets.

Each ticket purchased includes entry to the movie, plus one hotdog, one soft drink, one popcorn PLUS each ticket purchased donates a second ticket for a kid to experience movie night.
Kids Up Front Vancouver is hosting a family movie night featuring Toy Story 4 on the big screen. The Whitecaps FC and BC Lions will also be hosting on-field activities for kids prior to the movie.
This charity event is helping to raise funds that will support the ongoing operation of Kids Up Front Vancouver. In addition, each ticket purchased through Ticketmaster will sponsor a deserving child and/or their family members to attend the event at no cost. These complimentary tickets will be distributed to groups including the Children's Foundation, Indigenous Family & Child Services, Big Sisters of BC Lower Mainland, Children's Heart Network and Make-A-Wish Foundation.
About Kids Up Front Vancouver
Kids Up Front Vancouver works with more than 120 local charities and youth groups to help distribute donated event tickets and programs to marginalized youth and children who would otherwise not be able to access those unique and uplifting opportunities. In 2019, BC Place already has hosted more than 10,000 kids at Whitecaps FC and BC Lions events through Kids Up Front Vancouver.