Wild salmon, internationally renown wines, stunning natural artwork, and deliciously sweet and savoury fry bread. This season you can sip and savour your way through Kelowna (like I did with ZenSeekers) while also learning about its Indigenous past, present and future.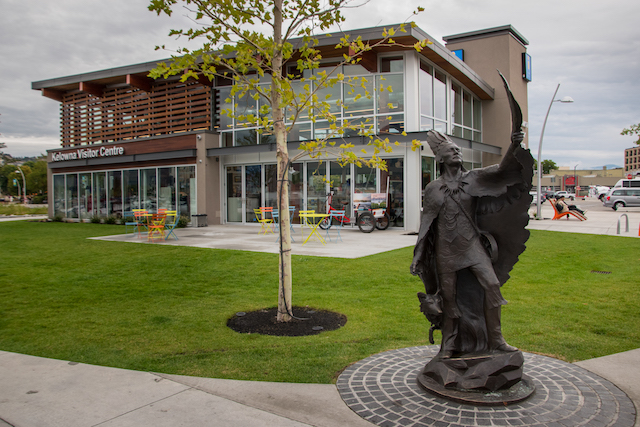 Kelowna Visitor Centre
The ideal starting point for any visit to Kelowna. At the brand new Visitor Centre (at 238 Queensway) you'll find information, maps, day trip ideas, artwork, and some really fun Kelowna swag. There is also a very important statue of Syilx Okanagan Chief Swkncut just outside by the water. He waves his feather fan west toward the Westbank First Nation, which is where you'll continue your journey:
Okanagan Select
In an unassuming storefront just off Highway 97, you'll find a plethora of delicious seafoods including local wild salmon in the tasting room at Okanagan Select (05-3535 Old Okanagan Hwy). The return of wild salmon to Okanagan waters has been a journey — and is still a work in progress — but the Okanagan Nation Alliance is doing some incredible work to restore this part of the ecosystem. Read about my visit to the hatchery here » and make sure you get to chat with Cordell when you visit the tasting room.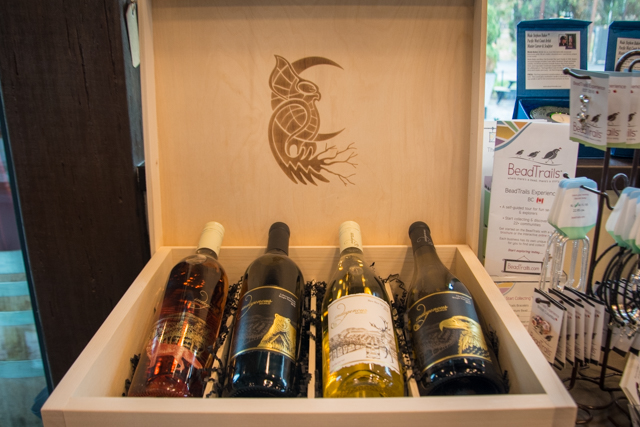 Indigenous World Winery
Known for merging modern culture with Indigenous history, this world-class winery is inspired by the land and the Syilx People of the Okanagan Nation. Indigenous World Winery (2218 Horizon Dr, West Kelowna) is open seven days a week, with a tasting room, shop, and panoramic views of Lake Okanagan in the shadow of Mount Boucherie.
Artist Studios Like Janine Lott's
Just down the road from the winery is Janine Lott's studio. Her artwork is inspired by her cultural heritage as a Syilx woman, by her family, and by historic pictographs that can be found in the area. She does something I've never seen before: She grows gourds, dries them out, burns her art onto their shells, and paints them in – they are stunning! They're all naturally formed and she waves her paint across these organic canvasses like a master. Follow her to find out when she's running her next workshop.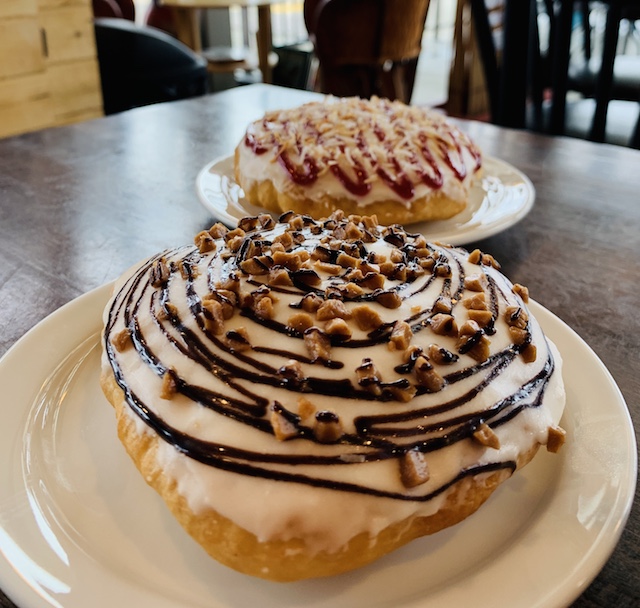 Kekuli Bannock Cafe
Last but not least, Kekuli Bannock Cafe not only puts a modern spin on traditional Indigenous food (Skor bannock anyone?!) it's run by award-winning entrepreneur Sharon Bond-Hogg. I had a bannock taco at lunch and then brought home a six pack of bannock — including their signature Saskatoon berry flavour — to share with friends.
Through my travels with ZenSeekers I have truly found that the very best way to connect with a culture, wherever you go, is to chat with people. It's people that make all the difference and in Kelowna, there is a lot to talk about!
When You Go
Thanks to the Honda Canada for getting us around on this expedition in the Canadian-made CR-V. Honda has been building cars in Canada for the last 50 years! #HondaCanada50